MIT project leads to programs that help health workers, farmers in developing countries
The MIT SCALE master's programs have been ranked #1 Supply Chain Management programs in the world for the fourth consecutive year by Paris-based EdUniversal.
EdUniversal has evaluated academic institutions and programs in France since 1994, and internationally since 2007. Its rankings are based on criteria including overall program reputation, career and salary outcomes of recent graduates, international reach, and feedback from students and alumni. 
MIT's SCM program shares the #1 position with sister programs offered through three of the five centers in CTL's global Supply Chain and Logistics Excellence (SCALE) Network: Zaragoza Logistics Center (ZLC), Malaysia Institute for Supply Chain Innovation (MISI), and Luxembourg Center for Logistics and Supply Chain Management (LCL).
The SCALE network was formed by the MIT Center for Transportation and Logistics in 2003 and includes education and research centers in Spain, Luxembourg, Colombia, Malaysia, and China, in addition to Cambridge MA. Zaragoza Logistics Center (ZLC), Malaysia Institute of Supply Chain Innovation (MISI), and Luxembourg Centre for Logistics & Supply Chain Management (LCL) each offer a master's modeled on MIT's 10-month master's in supply chain management program, which has been educating supply chain professionals since 1998. The Ningbo Supply Chain Innovation Institute China incorporates the 10-month SCALE curriculum into a 2-year MBA program, while the Center for Latin American Logistics and Innovation (Colombia) offers a low-residency Graduate Certificate in Logistics and Supply Chain Management to students pursuing a master's in a related field at their home universities in Latin America.
For over 15 years, the MIT SCALE master's programs have helped early-career professionals build their supply chain expertise and advance their careers. Students learn the latest supply chain management methods, engage in cutting-edge research, and enjoy rich interaction with industry through site visits and facility tours, lectures by visiting executives, and an intensive recruiting program. Each January, students from across the global network convene at MIT for SCALE Connect, a unique, intensive opportunity to work and learn with fellow supply chain and logistics students from all over the world.
SCALE Network graduates are in high demand by top global companies in a wide range of industries including biotech and pharmaceuticals, software/internet, healthcare, manufacturing, consulting, retail, utilities, food & beverage, and transportation & logistics.
In addition to its #1-ranked master's programs, MIT Center for Transportation and Logistics also offers the MITx MicroMasters credential in supply chain management on the EdX learning platform. The MicroMasters offers students around the world an opportunity to advance their supply chain expertise through fully-online study. Students earning the MITx MicroMasters Credential are eligible to apply to the blended or accelerated Supply Chain Management master's programs, and complete a full master's degree in only five months on campus at MIT, ZLC, or MISI. These pioneering blended master's programs enrolled their first classes in 2017.
A new methodology developed by the Humanitarian Supply Chain Lab may be used to respond to other endemic diseases.
Research on the logistics of responding to Ebola outbreaks has revealed that an often-overlooked, but critical, factor in resource deployment to treat victims of the disease is how many of the people in treatment centers are Ebola-negative.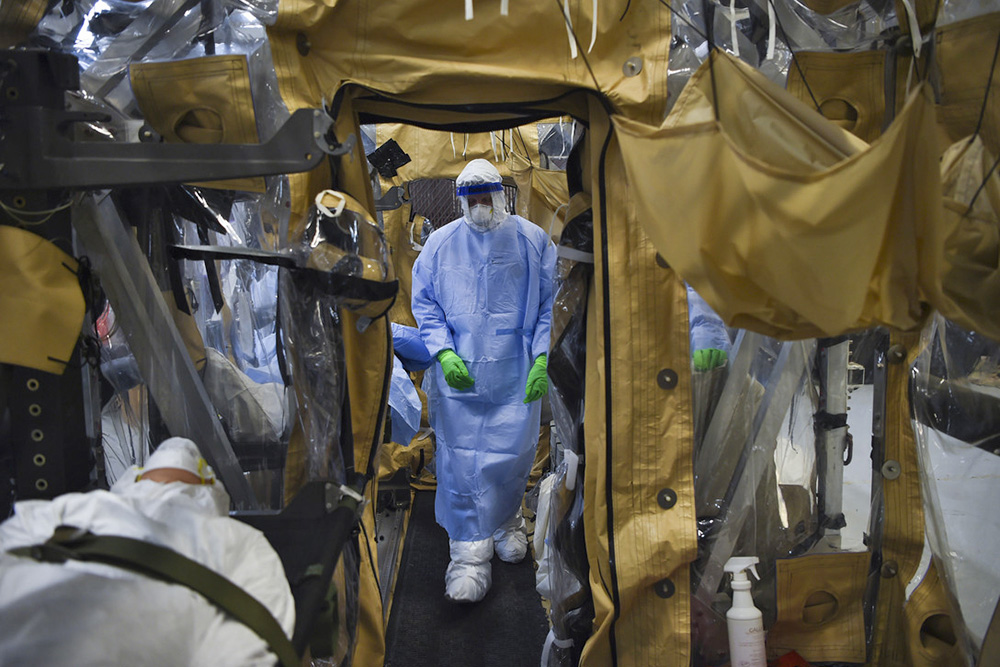 Individuals who test negative take up bed space and treatment capacity needed for those who have contracted the disease. More accurate forecasts of Ebola-negative cases, coupled with streamlined testing procedures to reduce their stay, increases the efficiency of treatment facilities and makes response programs more effective.
Now, student research out of the MIT Center for Transportation & Logistics has produced a methodology for achieving these improvements. The work was led by Robert C. Rains III, a 2019 graduate of MIT's supply chain management blended master's degree program (SCMb), who is a program manager with PAE in East Africa. The findings are not only important for combatting Ebola; the methodology can also be used to develop more effective responses to other endemic diseases.
The concept of supply chain transparency was virtually unknown 15 years ago, yet today it commands the attention of mid- and senior-level managers across a broad spectrum of companies and industries.
The reasons for this increased interest are clear: Companies are under pressure from governments, consumers, NGOs, and other stakeholders to divulge more information about their supply chains, and the reputational cost of failing to meet these demands can be high.
For example, food companies are facing more demand for supply-chain-related information about ingredients, food fraud, animal welfare, and child labor. Less clear, however, is how to define transparency in a supply chain context and the extent to which companies should pursue it: an MIT study that mapped definitions of supply chain transparency related to labor practices in the apparel industry found vastly differing definitions across organizations.
In this article, we offer some clarity on the meaning of supply chain transparency and guidelines to map and extend progress. The recommendations derive from the experience shared by dozens of companies up and down the supply chain across industries of all sizes over the last decade with MIT Sustainable Supply Chains, an initiative based at the MIT Center for Transportation and Logistics; Sourcemap, a provider of supply-chain-transparency solutions; and ongoing research in this area.
Originally written by Bob Trebilcock for SupplyChain247.com
What could be better than a graduate level education from one of the country's best supply chain management programs? How about a graduate degree with training from two of the country's best supply chain management programs.
In some respects, that's the rationale behind a 100% online Master's program offered on the edX platform that was recently announced by MIT and Arizona State University, ranked numbers 2 and 3 on U.S. News & World Report's annual ranking of graduate supply chain management programs.
The online Master of Science in Supply Chain Management from ASU will launch in January 2020. The program is open only to students who have completed the MITx MicroMasters program credential from the MIT Center for Transportation and Logistics. After completing the five MicroMasters courses with MIT, students will take an additional six courses from Arizona State. 
Qualifying students can apply now for the degree program, with an application deadline of Dec. 16, 2019. The cost of the program will be $19,080. You can learn more about the program here.
By all accounts, the program is a part of the revolution that is going on in education, including supply chain education. For starts, at less than $20,000, it's very affordable. And, notes Eva Maria Ponce Cueto, executive director of the MicroMasters program, its accessible. "It's really open to anyone from anywhere and any background," she says. "We've had students from 100 countries and its very flexible. Most of our students have full-time jobs and they can do this after work."
What's more, "MIT and Arizona have their own networks of alumni and corporate partners," says Chris Caplice, executive director of the MIT Center for Transportation and Logistics. "Students will double their exposure."
MIT CTL researchers have been making headlines in recent weeks. A range of topics encompassing last-mile delivery, sustainable logistics, the future of aging, and financial literacy, has generated a flurry of media activity including radio, TV, and podcasts.
What's the real cost of free one-day shipping?
Just in time for Amazon Prime Day, the environmental cost of one- and two-day shipping, and how consumers have been responding to that impact, is getting some attention. This issue, the subject of an ongoing project from the Sustainable Logistics Initiative, "'Green Button Project' Consumer Preference for Green Last Mile Home Delivery", has been featured on CNN Business; KXLY.com in Spokane, Wash.; and KCBS radio in San Francisco.
Josué Velázquez Martínez was interviewed on KCBS to discuss this research. Listen here.
"Hiding in plain sight" - the longevity economy 
Adults ages 50 and up make up a full 70 percent of buying power in the United States. And globally, the buying power of adults ages 60 and older is so large that it trails only the U.S. gross domestic product and that of China. More wealthy and more educated than any generation before it, the boomers represent a "new emerging market of expectations." AgeLab founder and director Joseph Coughlin recently appeared on the Institutional Real Estate, Inc. podcast to talk about the longevity economy and how the baby boomer generation is redefining aging. Listen here.
Millennials and money: the financial literacy gap
The BBC World Service's Business Daily program is looking at a financial literacy gap between millennials and other generations. AgeLab researcher Martina Raue was interviewed on the program to outline one solution: financial mentors for young people. Listen here.
Alexis Bateman in BBC article speaks about a crucial ingredient missing in our food today
The origins of many items on our tables are unknown to the everyday consumer. However new technologies and traditional ways of farming are beginning to close this information gap between farmer and consumer. As a result demand from consumers for better information could transform our food system from the ground up.
"That single package of ground beef can be coming from hundreds of different sources," says Alexis Bateman, the director of the Responsible Supply Chain Lab at the MIT Center for Transportation and Logistics. "In the seafood industry, there's a lot of actual fraud…so people want to make sure it's the right fish."
Recently, people have been realizing there is something lacking from their diets: quality information. 
High-profile incidents, like a 2013 scandal when cheap horsemeat was discovered in European beef products, have meant that people today are more wary of eating anonymized produce. "Consumers are realizing that they are more vulnerable than they knew," says Bateman. "It doesn't mean our food systems are less safe than they were before, it is that there is a growing awareness."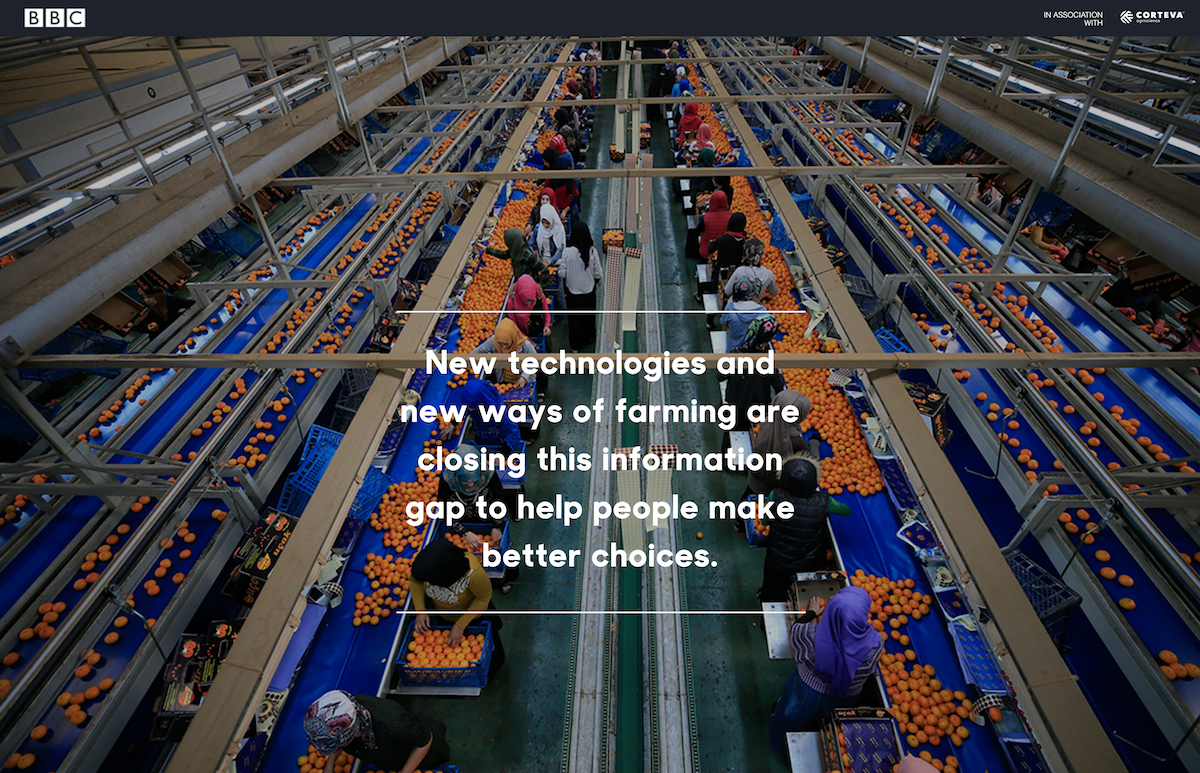 But tracing a product from farm to fridge via middlemen, resellers, mixers and packers can be daunting. Even the food's end seller may not know where it has come from. "The problem is that…they don't want to offer that information until they have good visibility of their own supply chain," says Bateman. "Even if they feel like they have a good grasp of their supply chain and they have good practices, some of them still don't want to in case something were to happen."
A snack such as a packaged biscuit might contain 18 different ingredients, each with its own intricate backstory. Right now, with the exception of a few foods (like beef), there is no strong evidence that most people will pay more or buy more of a food if it is fully traceable, says Bateman. "Until there is a clear competitive advantage that consumers will always buy the choice that has more information, companies are not willing to disclose that."
Bateman says the market is changing, though – for example, her local supermarket now has a fridge segment dedicated to traceable foods, something she never could have imagined two or three years ago. "It's piecemeal, it's slow but there is this demand and the consumer-facing companies are getting pressure to act which is pushing it up the supply chain."
To track an orange's journey to the Netherlands from Brazil, the juice companies used a tool that most people probably associate with the digital currency bitcoin. Blockchain enables cryptocurrency, but it is also very useful for recording other data, such as what happens to an orange after it gets picked.
"Every piece of data is time stamped," says Inma Borrella, who coordinates the Blockchain Research Group at the MIT Center for Transportation and Logistics. "It's not like a database where you can go in and edit data, it just keeps adding continuously. It allows you to keep a record of all the places [a product] passes through and all the different organisations that have touched a product."
But tracing food brings additional challenges compared with tracking a purely digital product. "When you are talking about a physical item and not a digital asset, you have the additional challenge of getting an accurate translation of the physical world into the digital world," says Borrella. "It's about how you make sure the digital record is the truth and not a misrepresentation or even just a human error."
With the implementation of 5G wireless, IoT's B2B services will speed up, but will the logistics sector be ready for the ride? 
Technologies related to shipping and logistics technologies are accelerating. The rollout over the next few years of 5G wireless will bring with it the speeding up of the Internet of Things (IoT), an ability of machines to instantaneously communicate with us and with each other.
So, it's easy to get caught up in futuristic visions of logistics where robots completely supplant humans, where autonomous trucks rule the roads and advanced drones fill airspaces. All these machines bring with them the promise of handling and delivering products at lightning speeds in a completely seamless fashion, sort of like some gigantic, global conveyor belt.
However, the logistics industry itself is moving toward technology at a velocity that is far less than supersonic. Emphasis is largely put on provability and reliability rather than dramatic leaps of technological faith. Part of this is cost. Part is resistance from many of the industry players who can be conservative, skeptical, hidebound or just inertia-laden. 
MIT Researcher David Correll is quoted as saying, "Many of the companies have full-on visibility solutions so that a shipper can see right where that truck is. Those that aren't are feeling some pressure to invest in the technology." 
Every decision is the right one as long as it works for the family.
This story was intended to share perspectives on bringing families with children to Cambridge from abroad while studying at MIT. These are our stories as ten-month and five-month on-campus Master's candidates. While writing it together, we had some enlightening arguments. We talked about the roles of men and women in families, the difference between moms and dads in children's eyes, gender equality, and the social perceptions of it. I personally believe that everyone deserves to pursue his or her dreams and ambitions regardless of gender or family status. Moreover, I believe that there is no such thing as a right or wrong decision when talking about families and children. Every decision is the right one as long as it works for the family.
Having two toddlers never stopped me from pursuing my professional and academic dreams. Completing the MicroMasters, applying to the MIT SCM Blended program, and being accepted all happened in parallel with my two children being born and raised. The question was – how to complete my education during the on-campus semester while maintaining my family. We considered all the options. I go alone, my husband stays with the children. I go with the children my husband comes to visit us every other weekend. We all go together....