We have achieved the highest level of carbon dioxide (CO2) in the atmosphere in the history of humanity. Logistics decisions for business are becoming increasingly complex and inefficient in a global, multichannel marketplace. This research aims to improve the efficiency and sustainability of freight transportation to directly influence reduction of monetary and environmental costs.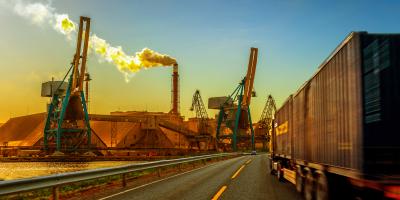 Sustainable logistics
Our mission is to support organizations to improve logistics and supply chain operations by creating applied and innovative research aimed at fostering growth while considering environmental and social sustainability. Our research helps solve organizational problems regarding logistics sustainability (large firms) and improving supply chain management expertise in their small business. These solutions are intended to create economic value and improve efficiency.
Recent projects
Sustainability: Helping build sustainable supply chains for companies.
Freight: Optimize routes and networks for maximum sustainable fuel efficiency.
CO2 Emissions: Improve tracking of greenhouse gas and black carbon emissions.
Data Modeling: Collecting big data through mobile apps and building models through statistical analysis and machine learning tools.
Green Button Project: Study consumer behavior with a focus on understanding the environmental impact of the same-day delivery promise and the key drivers that affect customer's willingness to wait for home delivery by providing environmental impact information.
Green Home Delivery Consolidation: Test the environmental effects of extending delivery window from 1–2 to 4–5 days via the consolidation of home deliveries.
Optimal Fleet Composition: How do vehicles perform given certain road & environmental conditions? Which vehicle characteristics have the biggest impact on CO2 emissions?
Carbon Footprint Analysis: Identify what type of patterns or characteristics within different regions can explain the variability of CO2 emissions within regions.
Topography Vehicle Routing: How to improve routing transportation decisions? What is the effect of topography in routing decisions? When solutions affected by topography affect the route with minimum distance?
Learn more about the work of the Sustainable Logistics team at https://sustainable.mit.edu/.
For more information
Contact Dr. Josué Velázquez Martínez at josue@mit.edu.
View the course description or Dr. Velázquez Martínez's website.