The MIT CTL Supply Chain Design Lab conducts innovative research to help companies adopt new supply chain design paradigms.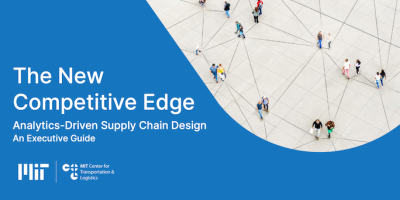 Our Focus
Supply chain design is the foundation of strategic supply chain planning, a key for organizations to create value. As supply chains become more end-customer-focused and global, their design becomes paramount as a competitive differentiator.
The MIT CTL Supply Chain Design Lab conducts innovative research to help organizations implement a value-driven, collaborative co-design process. We employ and develop visual analytics decision-support tools, that enable intuitive interaction with quantitative methods to support a data-driven decision-making processes.
Our Research
We focus on the development of new quantitative methods for supply chain design and the use of visual analytics to facilitate a cross-functional co-design process.
Our Courses
We offer a variety of in-person and online professional development courses. Our courses incorporate lectures and case studies that place learning in realistic industry contexts. In addition, we use interactive applications, where learners can simulate various supply chain design strategies, inspired by the MIT culture of learning by doing.
We work with organizations to develop and teach professional development courses on supply chain design, tailored around their specific needs.
Our in-person courses take place over one or several days at MIT. Examples of such courses include: learning about key trade-offs in supply chain design or the role of inventory in supply chain design. In-person courses afford the opportunity to meet our instructors and network both within and across organizations.
Our online courses take place asynchronously over several weeks or months using a comprehensive menu of materials from the MITx MicroMasters® Program in Supply Chain Management or custom content created for companies. We curate lesson plans with the organization and augment learning with live synchronous online events.
Learn more about our ongoing work at https://scdesign.mit.edu/