Crossroads changes every year to respond to the changing needs of the Supply Chain Community. CTL Supply Chain Exchange partners, the MIT community and alumni join for free. Learn more about becoming a Supply Chain Exchange Partner.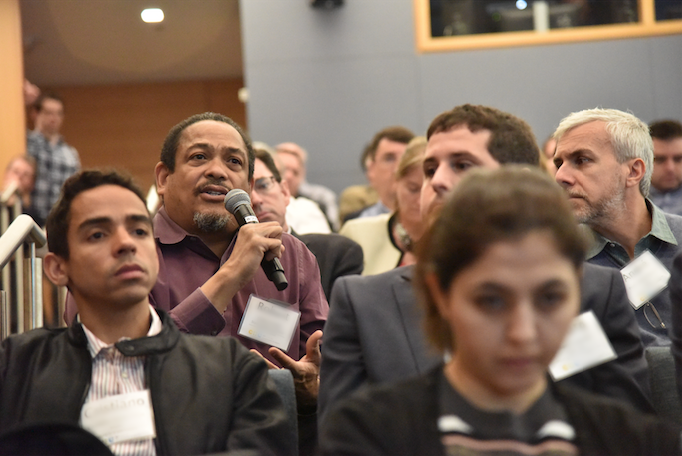 Following is a selection of topics shared during previous years.
Crossroads 2018
New advances in artificial intelligence, the impact of self-drive vehicle technology and its evolution over the coming years, the policy and legal ramifications of autonomous vehicles, and the implications conversational commerce has on business operations are some of the developments that supply chain professionals will learn about at Crossroads 2018 at the Massachusetts Institute of Technology (MIT), Cambridge, MA. You will hear the latest research on the following:
Artificial Intelligence and How Technology Will Evolve - Adam Fisch, MIT Department of Electrical Engineering and Computer Science
The Road Ahead for Autonomous Vehicles - Prof. John Leonard, MIT Computer Science and Artificial Intelligence Lab
Time to Talk About Conversational Commerce - Prof. Brian Subirana, MIT Auto-ID Laboratory
What About the Legal and Policy Implications of Vehicle Autonomy - Prof. Daniel Weitzner, MIT Internet Policy Research Initiative, CSAIL
Crossroads 2017
The six presenters at the 2017 CTL Crossroads conference came from markedly different parts of MIT – studying business, economics, computer science, chemistry, and civil, mechanical, and electrical engineering – but their talks shared common themes connected to supply chains. 
Turning Digital Disruption into Competitive Advantage - Dr. Jeanne Ross, Principal Research Scientist, MIT Sloan School of Management
Additive Manufacturing: Current Status and Future Potential - John Hart, Associate Professor of Mechanical Engineering at MIT
Visual Analytics: The Answer to Data Overload? - Dr. Matthias Winkenbach, Director Megacities Logistics Lab at MIT
Crossroads 2016
The impact of autonomous vehicles on logistics operations, new research on the security of food supply chains, and latest developments from the cutting edge of online education are some of the topics that will be covered at Crossroads 2016.
A new generation of autonomous vehicles - Sertac Karaman, Assistant Professor of Aeronautics and Astronautics, MIT  
Global food supply chains risk priorities - Retsef Levi, Professor of Management, Professor of Operations Management, MIT
Transforming Professional Education: An Update from the Front Line - Dr. Chris Caplice, Executive Director MIT CTL
To receive full reports from Crossroads learn about becoming an MIT CTL partner.