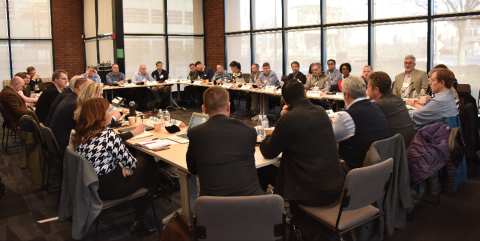 MIT's Humanitarian Response Lab at the Center for Transportation and Logistics (CTL)
held a roundtable on supply chain resilience in the face of large-scale disasters. To gather a cross-sectional understanding of the issue, the event convened participants from academia, public sector, and private sector – who brought their respective perspectives to illuminate this crucial intersection of management science, government policy, and business strategy. To ensure candor, this report was prepared under the Chatham House Rule of not identifying the specific speakers or affiliations of the anecdotes, insights, or recommendations. The roundtable used three major hurricanes (Harvey, Irma, and Maria) during 2017 as a focal point for gathering multiple points of view from the public and private sector and spanning supply chains from manufacturer to retailer. The roundtable and this report are aimed to catalyze more systematic research of the issues and opportunities revealed by a shared discussion of how business and government support survivors and restore a disaster-impacted economy.
The first half-day of the roundtable discussed supply chains for resilience in critical commodities following disasters
– including water, food, fuel, and healthcare supplies – along with cross-cutting issues regarding transportation. Participants described the surge in the demand and the impact of the storms on supply chain facilities, links, conveyances, workers, power, and more. Although each critical commodity and each storm was different, they shared many common phenomena. Overall, the storms impacted distribution more so than supply. Shortages of conveyances, congestion in the supply chain, and degraded infrastructure impaired the ow of aid and delayed the resumption of normal retail and business operations.
The second half-day took a more holistic look at how critical supply chains are managed in these kinds of crises
and how they might be managed better in the future. Participants reported using a number of practices to support survivors and return to normal business operations. Both private and public organizations accumulated and relocated resources in anticipation of the hurricanes. Many organizations supported employees and their families to meet needs and enable a return to work. Organizations used Emergency Operations Centers (EOCs) with tactical, operations-focused personnel to manage the crisis. Government agencies supported private recovery e orts through information and regulatory waivers in addition to direct aid to the survivors. Overall, companies sought to ex their networks to cover the surge in demand and serve the rest of the nation, too.
The discussions also revealed potential opportunities for improvement, especially in the realm of business-government coordination. For example, pre-crisis supply chain mapping and post-crisis visibility may enable better management of resources. In cases where detailed real-time data is impractical, aggregate indicators and sentinel data sources could provide timely, actionable insights. Better relationships between businesses and the many government agencies in all levels of jurisdictions could improve coordination in a crisis. Although the future of disasters may be dynamic and unbounded, research, development, and rehearsal of resilience strategies can help mitigate the black swans to come.
More about the Humanitarian Supply Chain Lab