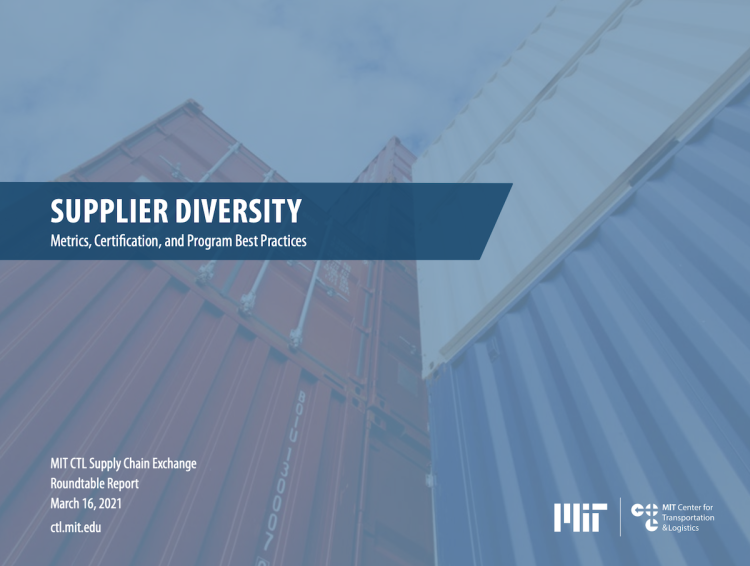 Executive Summary
On January 12, 2021, the MIT Center for Transportation & Logistics (CTL) convened a virtual roundtable to explore key topics across supplier diversity, equity, and inclusion (DE&I). Participants represented nine industries within manufacturing, retail, and services, and their companies were at various points in their supplier diversity (SD) journey, which enabled an exchange of experiences and fresh perspectives on the challenges, opportunities, and future of supplier diversity.
The roundtable opened with an overview of CTL's research on Supplier Diversity, followed by three topical sessions: metrics, supplier certification, and program design best practices. Each session began with a kickoff presentation by a company sharing its experiences and lessons learned, followed by a discussion of the issues. To encourage open sharing, no statements in this report have been attributed to any specific company. 
The metrics session revealed that most companies quantify supplier diversity programs in terms of their spending with diverse-owned suppliers, measured as dollar amounts or percentages (with pros and cons of both approaches). Companies have been expanding their measurements from just Tier 1 diverse suppliers to include diverse spending in Tier 2 and deeper. Supplier diversity programs are evolving to encompass more metrics that assess the broader impacts of diversity programs on diverse suppliers, employees, and communities, such as making a difference in economic empowerment. Participants also sought to standardize SD program metrics, benchmarks, and dashboards so as to reduce suppliers' time and costs of reporting and to aid communication that could extend adoption of SD principles. 
The certification session showed that most companies require third-party certification of diverse suppliers' ownership to ensure the validity of the company's diversity claims. However, the onerous certification process acts as a tax on the very companies it seeks to help; only about 1 percent of diverse companies achieve certification despite meeting the required criteria. Moreover, current ownership-focused certification misses many alternative types of supplier diversity efforts (e.g., in diversity hiring, development, management composition, and community support) that can aid in economic advancement of historically disadvantaged communities. 
Participants wanted to influence certifiers to both ease the access barrier for suppliers and to expand the ways suppliers can be counted as diverse. 
Discussions of best practices in designing SD programs focused on assessing and scoring the health of the diverse suppliers—measuring the trend in each supplier's current and expected future business with the company. The onus was then on companies' purchasing teams to craft supplier development plans in which green-scoring suppliers have a growth strategy, yellow-scoring ones have a plan for moving to green status, and red-scoring ones have a fix or an intended disposition. Driving greater supply chain DE&I means working with all suppliers to increase DE&I efforts in Tier 1 and deeper tiers of the supply chain. Global rollouts of diversity programs face added challenges in defining locally-appropriate categories of diversity and finding such suppliers in other countries. 
Overall, participants advocated for more collaboration between companies, suppliers, and certifiers to help expand diversity, equity, and inclusion in supply chains.