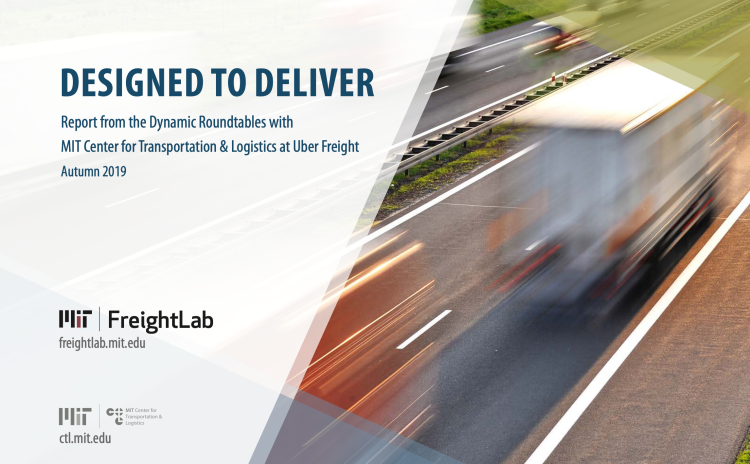 Executive Summary
The MIT Center for Transportation & Logistics (MIT CTL) facilitated a series of roundtable discussions in conjunction with Uber Freight's Deliver '19 conference. On September 4, 2019, more than 150 participants contributed to the discussion. The group was comprised mostly of shippers invited by Uber Freight and industry sponsors of CTL. Overall, the sessions focused on a better understanding of how to improve the efficiency and effectiveness of the relationships between shippers, carriers, receivers, drivers, and third parties. The recent shift from a tight carriers' market to a soft shippers' market provided a natural example of how this sector cycles between boom and bust.
Each session started with a short presentation on a topic. Next, the group divided into small groups for deeper discussions of the session's issue followed by more open discussions. Additionally, interactive polls were taken to gather participants' anonymous opinions on various facets of their experiences with the discussed issues and their company's likely plans.
In the first session, the group discussed how delays and poor "driver friendliness" at shippers' facilities increased shippers' costs and reduced the shippers' access to truck capacity. Shippers reported working on providing better facilities, WiFi, driver appreciation events, and reducing delays, and other frustrations that impair the productivity of truckers.
Session two explored shippers' knowledge of drivers' hours of service (HOS) and the generally positive expected impacts of five potential changes to the Federal Motor Carrier Safety Administration (FMCSA) regulations of HOS. Shippers debated the merits of knowing a driver's remaining HOS, with concerns about liability being possibly offset by better flexibility, service improvements, and freight theft reductions.
The third roundtable covered transportation procurement practices. The group lamented the adversarial incentives and opportunistic behaviors of both shippers and carriers that ultimately reduce the efficacy of the contracts and increase shippers' costs when they are forced to use the spot market. There was a general sense of dissatisfaction with the current "Dominant Design" for transportation procurement that starts with an annual pricing event that feeds into a static routing guide. Several potential modifications were discussed.
Thefinalsessioncoveredshippers'futureexpectationsandplansfor2020.Truckload rates were generally expected to bottom out in 2019, with more participants expecting an eventual modest increase. Many shippers were expanding their use of brokers to access more carriers, while others were consolidating the number of carriers with which they worked in order to deepen relationships with a smaller portfolio of carriers (which may include selected brokers, too). Companies were pursuing initiatives for better cost management, forecasting, and the use of technology. Companies were also working to better educate senior management about the complexities of market cycles in transportation and the sector's shifting effects on strategy, execution, and costs.
1. re-think their transportation procurement practices,
2. improve the efficiency within their own facilities, and
3. be more empathetic to drivers in general.

The report outlines all additional recommendations surfaced at the roundtable.