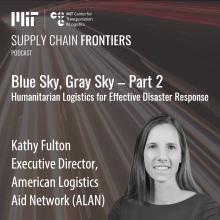 "Hope is not a strategy."
In this episode, we are joined by Kathy Fulton, Executive Director of the American Logistics Aid Network (ALAN), who discusses her work connecting private-sector resources with disaster response needs: a "gray sky" response, after a disaster hits. For instance, if a supplier has excess food they need to offload, ALAN will connect them with a warehouse with the capacity to accept the delivery. ALAN forges partnerships between various players in the supply chain as well as between the public and private sectors, which, along with information sharing among all parties, are critical to fostering collaboration in order to respond effectively to a disaster and to strengthen future disaster preparedness.
Tim Russell and Lauren Finegan of the MIT Humanitarian Supply Chain Lab conducted the interview with Kathy.
Transcript