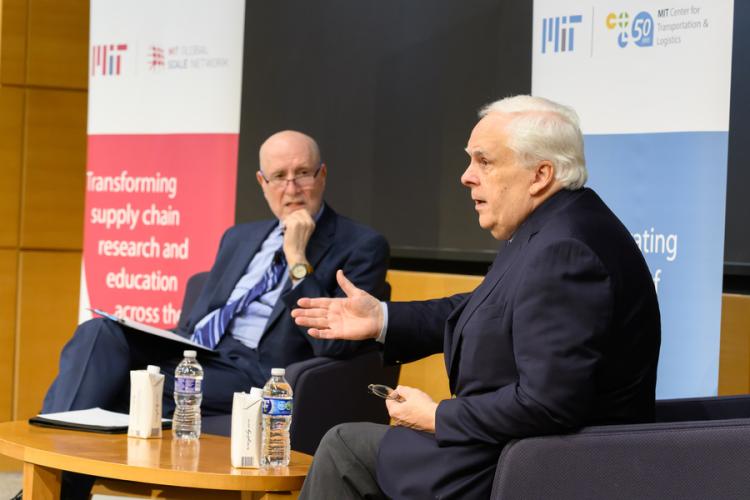 February 15, 2023
In the Media
On Jan. 26, the MIT Center for Transportation and Logistics (CTL) hosted FedEx founder and executive chair Frederick W. Smith for an intimate, one-on-one conversation with Yossi Sheffi, director of CTL and professor of civil and environmental engineering. Their talk, titled "50 Years of Delivering Innovation," centered on the evolution of the supply chain and logistics fields over the last half-century — in which FedEx played a large part.
Smith's visit kicked off CTL's yearlong celebration of its 50th anniversary. The year of its founding, 1973, coincides with the year that Federal Express first began operations — with 14 Dassault Falcon 20 aircraft delivering 189 packages, a far cry from the 16.5 million packages it now delivers daily.
In his introduction, Sheffi called Smith "a legend in our field." A true visionary, Sheffi continued, "he started an industry more than a company." From overnight shipping — which was unheard of in 1973 — to package tracking, FedEx has been a consistent leader on innovation in the shipping industry.
Read the full article on MIT News.
Photo (Justin A. Knight): Frederick Smith (right) and Yossi Sheffi discuss innovation at Wong Auditorium on Jan. 26.