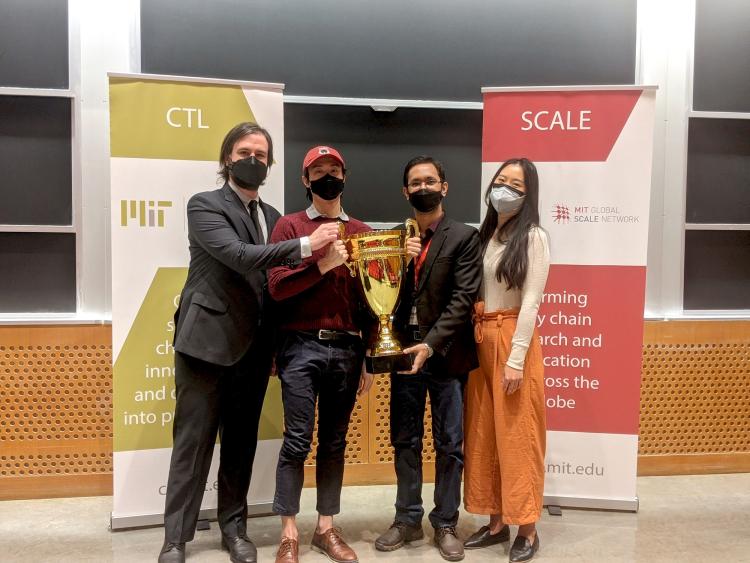 February 03, 2022
News
The 2022 SCALE Connect conference ended in a whirlwind of group project presentations and awards ceremonies. One of the team-based challenges of the conference is the annual entrepreneurial challenge competition: a product development and pitch challenge sponsored by the ASCM Massachusetts Minuteman chapter, in the style of the hit TV show "Shark Tank". Randomly assigned student teams propose and pitch solutions to problems on the UN Global Issues List. Teams present a problem statement and a business model demonstrating how supply chain management frameworks and toolkits can be used to address the problem.
This year's competition saw 32 teams compete and were judged by members of the ASCM Massachusetts Minuteman Chapter, MIT CTL researchers, and entrepreneurship experts. Each team had 14 days to develop their products and pitches. Five advanced to a final round with bragging rights and prizes on the line. Teams were allowed five minutes to make their pitch, and five minutes to field questions from the judges. Pitches were judged on the significance of the problem being addressed, clear applicability, successful supply chain implementation to address the problem, viability and sustainability of the business model, and knowledge of the target customer.
The top prize went to KAMP, a business proposed by Samuel Chin (MIT), Debra Lee (MIT), Shahidul Hoque (MIT), David Montemurri (GCLOG), and Vedasree Ramireddy (LCL). KAMP sought to work toward supply chain circularity by creating low-cost home compost containers. The containers attach to houseplants, offering a continuous, all-natural source of soil and creating an outlet for home food waste. The judges were impressed with KAMP's low startup costs and marketability, suggesting that it could be even bigger than its creators envisioned.
The H2GO team, made up of Rachael Clark (MIT), Jesus Guajardo (MIT), Jinwoo Je (MIT), Jason Maen (MIT), Pamela Quintanilla (ZLC), and Karoline Rueckerl (MIT). H2GO proposed a fuel cell pickup and delivery service for drivers of hydrogen cars in the Korean market, helping cut down on emissions and extremely long wait times at Korea's scarce hydrogen-fueling stations.
Finally, third place went to BoxIt, a proposed business working with restaurants and consumers to supply sustainable take-out food packaging. BoxIt aimed to supply containers to restaurants and pick them up from customers after use, creating a circular supply chain. The BoxIt team consisted of Varun Shekhar (MIT), Ankita Arora (MIT), Lauren Fellin (MIT), Daniela Muñoz (GCLOG), and Rajiv Saini (LCL).
The annual SCALE Connect academic conference brings students from the global SCALE centers together at the MIT Center for Transportation & Logistics (MIT CTL) in Cambridge for three intense weeks of seminars, industry speakers, career development workshops, advanced training on topics such as Python & machine learning, and team-based challenges and business case competitions. The program provides our students with unique opportunities to learn, network, and collaborate with fellow supply chain and logistics students from all over the world.
Photo: (L-R) David Montemurri (GCLOG), Samuel Chin (MIT), Shahidul Hoque (MIT), and Debra Lee (MIT) were awarded 1st place in the 2022 SCALE Connect "Shark-Tank" style competition for their proposal: "KAMP" Not pictured: Vedasree Ramireddy (LCL) who joined the final-round presentations and awards ceremony remotely