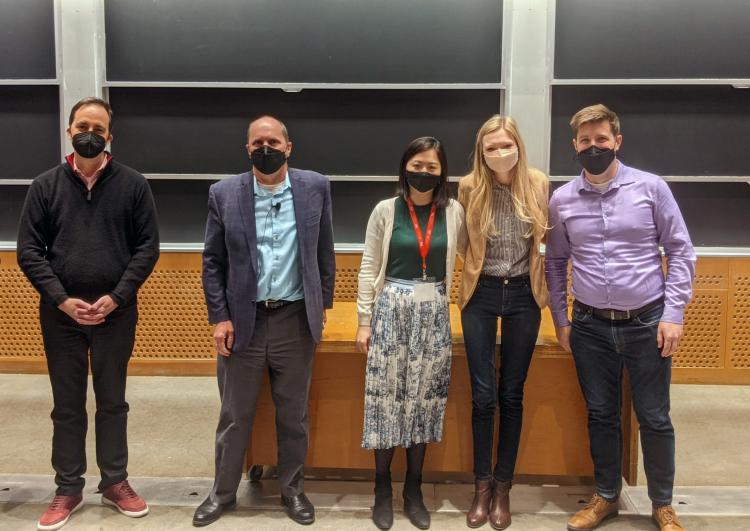 February 03, 2022
News
Graduate supply chain management students from the MIT Global Supply Chain and Logistics Excellence (SCALE) Network put their heads together last month to find solutions to real-world supply chain problems in the second annual MIT Supply Chain Challenge.
Each team had 14 days from receiving its data set to come up with an innovative, feasible, and effective solution to present to the sponsor company. 
The top prize went to Meiling Chen (MIT SCM), Nicholas Winters (MIT SCM), Kubra Bayik (LCL), Rachael Clark (MIT SCM), and Nina Anttila (ZLC), who came up with two possible solutions to a challenge facing StockX, an online clothing resale marketplace.
StockX wanted to reduce costs and improve inbound and outbound shipping times in its Los Angeles market. The team's first strategy, aimed primarily at reducing costs, focused on implementing a customer merchandise pick-up service, from which StockX stood to save $750,000 per year. Their second solution, however, prioritized maximizing service and proposed a drop-off model for merchandise as well as a concierge pickup service for top-tier sellers, shaving an annual $300,000 off the company's costs. "We really liked the proposal for [its] innovation, data-driven flexibility from a supply chain perspective," said Sean McCartney, Chief Supply Chain Officer at StockX, "but also for its customer focus."
"The StockX team had a very innovate solution, but they were not alone," said MIT CTL Executive Director Chris Caplice, who was one of the final-round judges. "Other teams facing different challenges explored sophisticated solutions ranging from machine learning to large-scale optimization to insightful visualizations. I was really impressed how the teams used the cutting-edge methodologies and techniques to bring insights to the company sponsors."
Fred Baumann, Vice President of Global Industry Marketing at sponsor company o9 Solutions, echoed Caplice's sentiments. "I was extremely impressed with all [your] hard work," he said of the projects. "It was clear you put your heart and mind and soul into this."
The Supply Chain Challenge is designed to provide students with applied learning opportunities and valuable industry exposure. By working closely with top companies on relevant, timely supply chain and operations problems, and collaborating in teams to solve complex challenges requiring a broad range of skillsets, students gain invaluable experience while strengthening practical skills. The challenge also provides students with an opportunity to connect in substantive and productive ways with professionals at top companies as well as with seasoned industry practitioners.
Photo: MIT SCALE Supply Chain Challenge Competition 1st place winners. (L-R) Fred Baumann, VP of Industry Strategy, o9 Solutions (prize sponsor); Chris Caplice, Executive Director of MIT CTL; SCALE supply chain master's students Meiling Chen (MIT), Rachael Clark (MIT), and Nicholas Winters (MIT). Not pictured: winning team members Kubra Bayik (LCL) and Nina Antilla (ZLC), who joined the final-round presentations and awards ceremony remotely.