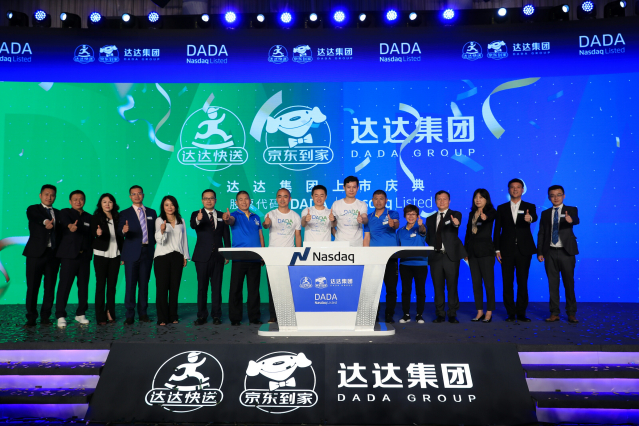 August 12, 2020
Press Releases
Philip Kuai MLOG '07 leads first fully virtual investor roadshow to bring his company, Dada Group, to an initial public offering in New York.
Early this year, Philip Kuai MLOG '07 and his team were faced with a challenging decision about whether to continue on their pathway to publicly offer their company, Dada Group, in the midst of a global pandemic. While there was much uncertainty in the market at the time, the team's perseverance and dedication paid off in June when Kuai rang the Nasdaq opening bell remotely from Shanghai, China, signaling Dada's listing in New York.
His company's vision is to "bring people everything on-demand." It achieves this through two complementary business platforms, Dada Now and JDDJ. Dada Now is a crowdsourcing delivery infrastructure with 634,000 active riders that cover more than 2,400 cities and counties. Last year it was the largest open on-demand delivery platform in China by number of orders. Dada's other platform, JDDJ, facilitates digital transformation for retailers. It was the largest local on-demand retail platform for supermarkets by gross merchandise value, with 27.6 million active consumers in the year ended March 31. Dada Now and JDDJ are independent platforms that have an overlapping multilateral network and a synergistic business strategy.
By providing retailers with technology-enabled solutions to improve efficiency and consumers with convenience and a broad product selection, Kuai's company takes a unique approach that raises the bar in service level. During the world's largest shopping event on China's Singles Day in 2019, Dada boasted that it delivered each of its 1.5 million orders in less than two hours. Combining this kind of service level with additional omni-channel and online-to-offline (O2O) marketing promotions has established the strength of the company's business model and scalability. Two major e-commerce players, both in China and the United States, are longstanding investors and partners, as Dada continues to innovate and scale their capabilities across China.
Kuai cites his time at MIT, entrepreneurial spirit, and good business practices as the foundations of his company's success.
MIT News