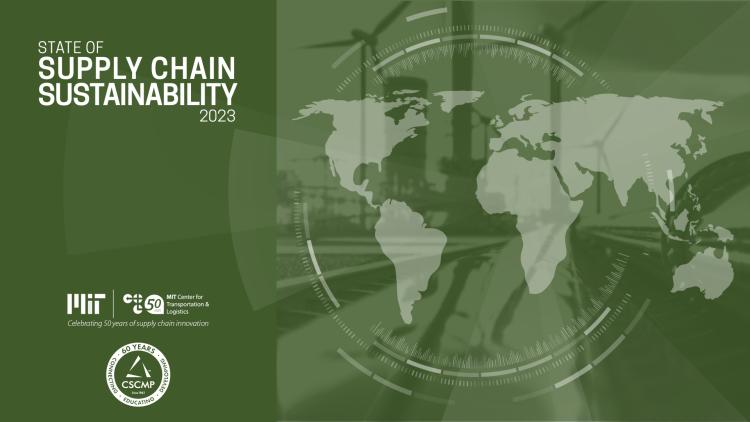 October 02, 2023
Press Releases
CAMBRIDGE, Mass., Oct. 2 – The State of Supply Chain Sustainability 2023, published today, Now in its fourth year, the annual report from the MIT Center for Transportation & Logistics (MIT CTL) and the Council of Supply Chain Management Professionals (CSCMP) examines how supply chain sustainability practices have evolved over a four-year period, how they are being implemented globally, and what that means for professionals, enterprises, industries, and the planet. This year's report shows that pressure on firms to make their supply chains more sustainable.
The report is founded on a large-scale international survey of supply chain professionals with over 2,300 respondents conducted earlier this year as well as executive interviews. To attain the broadest audience of practitioners and input from various sectors, the MIT Center for Transportation & Logistics (MIT CTL) and the Council of Supply Chain Management Professionals (CSCMP), a leading, global, professional association, collaborated on data collection. For the first time this year, the survey component of data collection was offered in four languages: English, Portuguese, Simplified Chinese, and Spanish. This year's report is sponsored by Avetta, C.H. Robinson, and Isometric Technologies.
"With four years of global observations and thousands of survey responses, we are in a unique position to see where progress has been made," said David Correll, MIT CTL research scientist and lead investigator on the study. "We have found that topics within the realm of supply chain sustainability are complex; some trends have changed over four years while others remain consistent. Indeed, the supply chain sustainability journey is a long one, and it contains multitudes."
"The value of this report to supply chain executives and practitioners alike cannot be overstated," said Mark Baxa, President and CEO of CSCMP. "Worldwide, the findings and supporting commentary found in this report continue to demonstrate the criticality of the supply chain 'doing the right things right' for society."
Following several years of turbulence around the world, including the Covid-19 pandemic and Russia's invasion of Ukraine, supply chain sustainability efforts have proved resilient to certain types of crises but vulnerable to others. And for the fourth straight year, investors continued to have an outsized and growing role in putting pressure on firms to make their supply chains more sustainable.
This year's report takes a closer look at firms' net-zero goals. Only about one-third of respondents' firms had net-zero goals in place, and of those that did, many appeared unprepared to meet them. Furthermore, net-zero carbon emissions goals appear to be clustered in wealthier countries, giving rise to concern about whether the global ambitions of net-zero goals can be achieved with only localized adoption.
Over four years, pressure on supply chain professionals to improve their firms' supply chain sustainability has grown every year across every measure the study tracks. And every year, the path toward achieving those goals appears to cross supply chains. This year shows that collaboration across supply chains appears to be especially important as firms struggle to measure and to reduce their Scope 3 emissions.
Read the full report online or in PDF format.
What the report sponsors are saying:
"Social policies have grown significantly over the past few years driven by societal movements that have driven focus on diversity, equity, inclusion, individual health, and well-being. Company executives, investors and HR teams are focused on implementing social programs to ensure happier and healthier employees to meet this growing societal demand. People also wish to work in environments that focus on the whole person, and not just the well-being of the company." —Taylor Allis, Chief Product and Marketing Officer, Avetta
"Scope 3 continues to be elusive at scale because of still evolving definitional boundaries that vary by region and vertical, as well as the sheer complexity of managing and monitoring the supply chain where much of Scope 3 lies. Many businesses are forced to use estimations, which open risk to green-washing, or set their own scope, which opens risk to shifting metrics year over year." —Katie Martin, Principal Lead for Sustainability & ESG, Avetta
"Companies say, 'Hey, as a supplier of ours, here's what our expectations are of you.… You need to hit X, Y, and Z when it comes to ESG.' That is happing more and more often. But another piece is on the value creation side, where the shippers will say, 'Not only do we require this of you as a bare minimum of what you're doing with your own work, but how can you help us? What are some of the basic things we can do together to reduce emissions?'" —Rachel Schwalbach, Vice President for Environmental, Social, & Governance, C.H. Robinson
"Supply chain sustainability strategies that are driven by short-term thinking are susceptible to many different types of disruptions, from government regulations and economic conditions to other global influences. When our customers experience unexpected disruptions, we see that their strategies tend be steadied by their long-term sustainability aspirations and a continued focus on those future milestones." —Brittany Brama, Sustainability Manager, C.H. Robinson
"Supply chains inherently require a significant amount of collaboration between partners, but just communicating regularly about your sustainability goals is not enough. You can't manage what you can't measure. In order to start moving the needle, supply chain partners need to leverage shared technology that can serve as a single source of truth for them to collectively measure the results of their sustainability efforts." —Brian Cristol, CEO & Co-Founder, Isometric Technologies
About MIT CTL
The MIT Center for Transportation & Logistics (MIT CTL) has been a world leader in supply chain management education and research for 50 years. MIT CTL has made significant contributions to the field of supply chain and logistics management and has helped numerous companies gain competitive advantage from its cutting-edge research.
About CSCMP
Since 1963, the Council of Supply Chain Management Professionals (CSCMP) has been the preeminent worldwide professional association dedicated to the advancement and dissemination of research and knowledge on the supply chain management. With CSCMP members located around the world representing nearly all industry sectors, government, and academia, CSCMP member receive unparalleled networking opportunities, cutting-edge research, and online and on-site professional educational opportunities.