March 26, 2021
Press Releases
A newly translated edition in Mandarin will be used for stakeholder curriculum
Press Contact: Ken Cottrill kencott@mit.edu

The People Bank of China (PBoC) has selected the book Balancing Green - When to Embrace Sustainability in a Business (and When Not To) (MIT Press, 2018), by MIT Professor Yossi Sheffi, to be part of its training curriculum for staff and member banks. The prestigious selection reflects the book's balanced approach to environmental sustainability. The newly-translated Mandarin edition will be part of the highly-selective reference materials used in the training library at the organization.
To ensure that government officials understand the issues and design efficient ways to manage businesses, the PBoC conducts training for its members using the work of top experts, explains Jay Guo, executive director of the MIT Global SCALE Network's center in Ningbo, China. "Professor Sheffi's book was chosen as the one such resource for training on sustainability. Having Balancing Green selected by the bank raises the profile of our center and helps us with sustainability education within our academic and business communities."
China is the world's top greenhouse gas producer and has pledged that its carbon dioxide emissions will peak by 2030 and the country will become carbon-neutral by 2060. On March 12, 2021, China's Premier Li Keqiang stated that as part of his country's 14th Five-year plan, "We will further consolidate the foundation of economic recovery, promote high-quality development and make our development truly sustainable."
To achieve these goals, Chinese businesses and their stakeholders are directed to develop ways to balance corporate profits, jobs, business growth, and environmental sustainability. Sources of knowledge such as Balancing Green will play a vital supporting role in this effort. The book offers guidance on how companies and organizations can develop business models that successfully meet different stakeholder needs.
"The MIT Press aims to advance research, teaching, and solutions to real-world problems through its publishing program," notes Amy Brand, director and publisher of the MIT Press. "We are very pleased to license Balancing Green by Yossi Sheffi to China Financial Publishing House and help ensure that this important title on environmental sustainability reaches the broadest readership possible."
China Financial Publishing House, delayed the book's release in China so that it could be published with the Central Bank's unofficial "seal-of-approval." Each year, very few books are selected by the bank as its training material. Consequently, publishers in China compete vigorously to capture this important symbol of quality.
Both the publisher and CTL's Ningbo center are now promoting the book and the designation.
Press Contact: Ken Cottrill kencott@mit.edu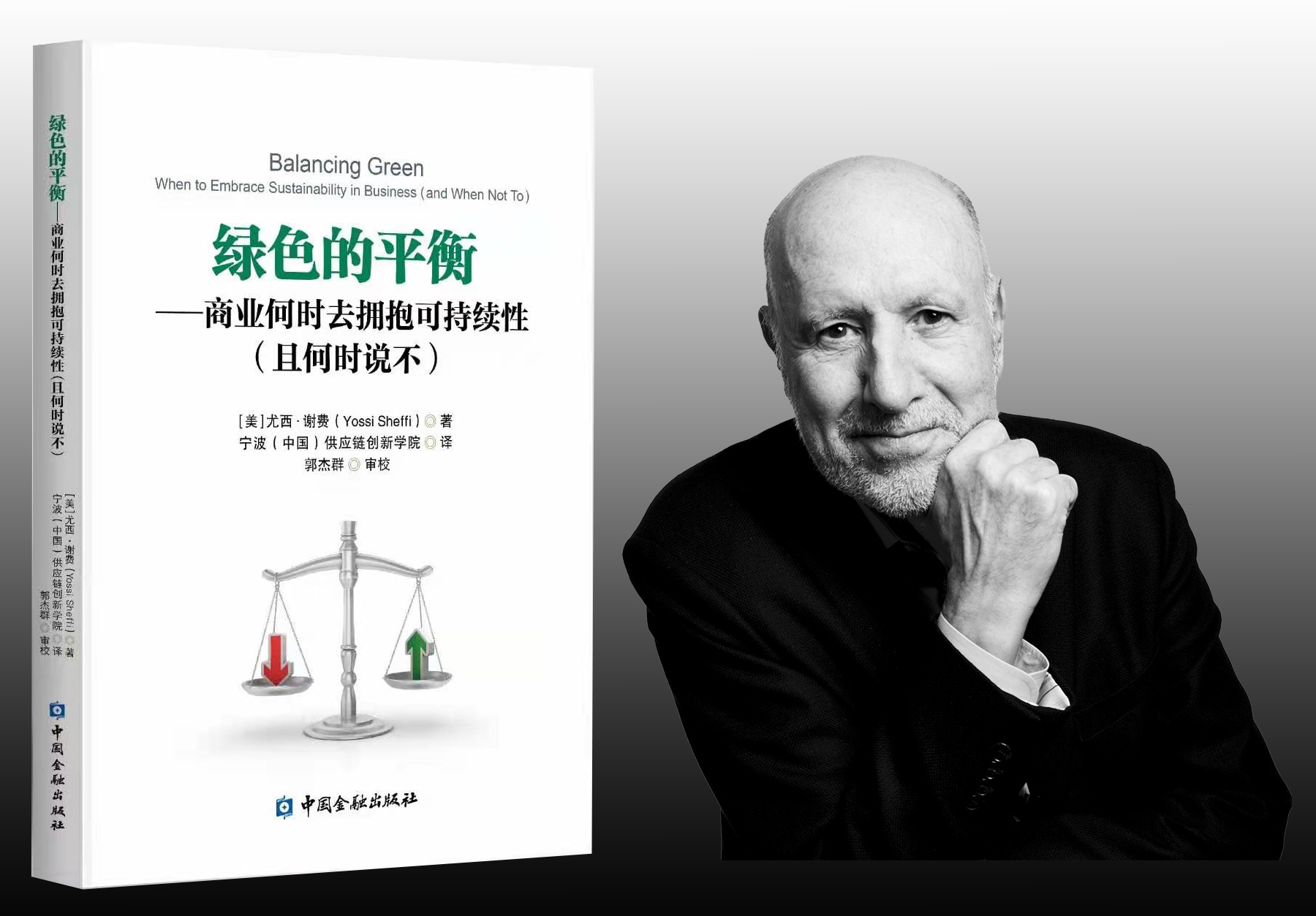 About Balancing Green
An expert on business strategy offers a pragmatic take on how businesses of all sizes balance the competing demands of profitability and employment with sustainability. The demands and stresses on companies only grow as executives face a multitude of competing business goals. Their stakeholders are interested in corporate profits, jobs, business growth, and environmental sustainability. In this book, business strategy expert Yossi Sheffi offers a pragmatic take on how businesses of all sizes—from Coca-Cola and Siemens to Dr. Bronner's Magical Soaps and Patagonia—navigate these competing goals. Drawing on extensive interviews with more than 250 executives, Sheffi examines the challenges, solutions, and implications of balancing traditional business goals with sustainability.

About the MIT Global SCALE Network
The MIT Global Supply Chain and Logistics Excellence (SCALE) Network was formed in 2003 with the opening of the Zaragoza Logistics Center (ZLC) in Zaragoza, Spain. It expanded with the opening of the Center for Latin American Logistics Innovation (CLI) in Bogotá, Colombia in 2008, the creation of the Malaysia Institute for Supply Chain Innovation (MISI) in Shah Alam, Malaysia in 2011, and the recent openings of the Luxembourg Centre for Logistics and Supply Chain Management (LCL) in Luxembourg in 2015 and the Ningbo China Institute for Supply Chain Innovation (NISCI) in Ningbo, China in 2016. Collectively, the MIT Global SCALE Network now spans to six centers of excellence on four continents, with over 12 educational programs (both online and in residence), more than 55 academic partners, 80 researchers and faculty, 150 corporate partners, and over 1200 alumni working worldwide.
MIT Center for Transportation & Logistics