February 04, 2019
Press Releases
The winning finalists of the AWE - Advancing Women Through Education scholarship were awarded at MIT on 30 January 2019. The award, to be given annually and currently valued at $72,000, is the first ever full-tuition award specifically for women in the 20-year history of the MIT SCM program. It represents a significant commitment by MIT SCM, the MIT Center for Transportation & Logistics, and AWESOME to encourage women to prepare for and perform successfully in supply chain leadership roles.
Women in Supply Chain Fellowship Award
The applicant profiles in response to the scholarship were so strong that the organizers decided to award one full scholarship and two additional half scholarships. Elizabeth Raman received the full scholarship award and Gabriela Lamas and Victoria Brown each received half-tuition awards. All three women finalists attended the event. Over 200 guests and 180 fellow students were gathered to witness the award presentation and surprise announcement of the additional scholarships. "We look forward to the impact all three of these women will have not only on the MIT Supply Chain Masters Program in the fall but also on the Supply Chain Management industry in the future" said Katie Date, "This scholarship marks an important achievement in the mission to encourage more women to pursue graduate education in SCM."
Learn more about MIT SCM here.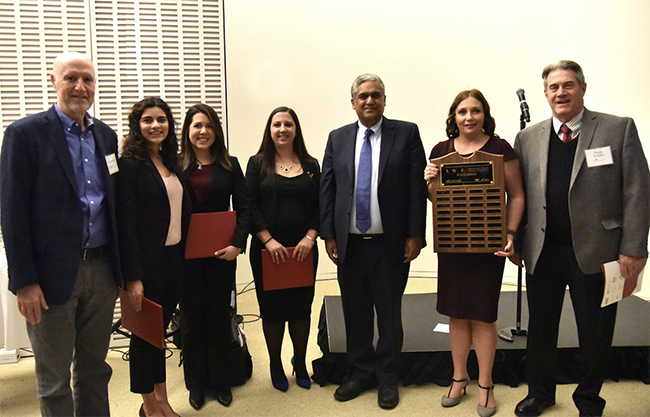 According to  Bridget McCrea writing for Supply Chain 247, "Gartner's third-annual 'Women in Supply Chain Survey' reveals sustained representation of women in the senior-most ranks of supply chain organizations, with more supply chain leaders spearheading their own initiatives to attract, retain and advance women. The MIT AWE scholarship is created to support and accelerate this trend. Offered in partnership with AWESOME, the AWESOME/MIT Advancing Women through Education (AWE) Scholarship provides a full-tuition fellowship to a female student entering the MIT Supply Chain Management 10-month residential program in August. The award was announced in the spring and had an overwhelming response.
Research Expo Project Awards
Teams from each of the MIT Global SCALE Network locations and Graduate Certificate program were awarded prizes for their projects at the Expo. Use the images below to see an overview of the kind of projects we'll be looking forward to seeing completed in May at Research Fest.
OMS Features for Omni-channel | Optimizing Last Mile |  Segmentation in FCMG  |  Tackling Undernourishment in LatAm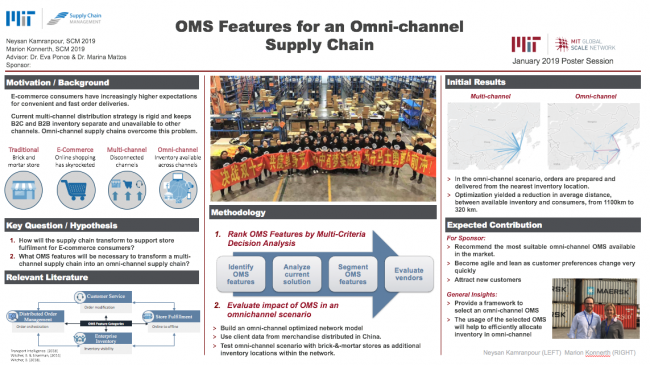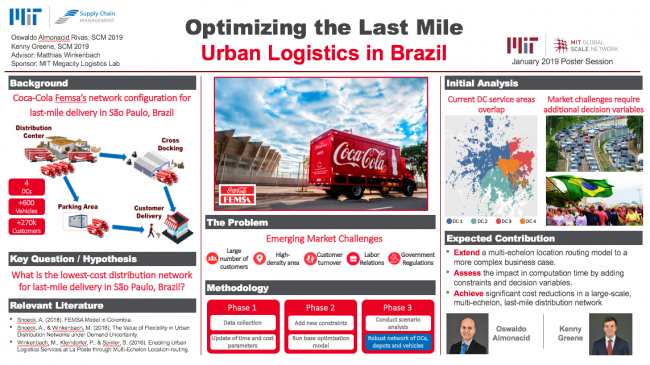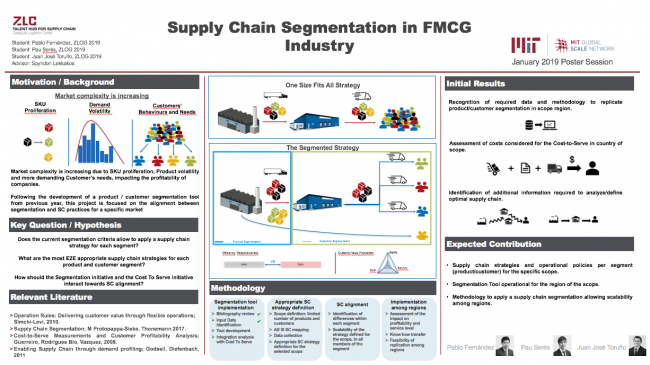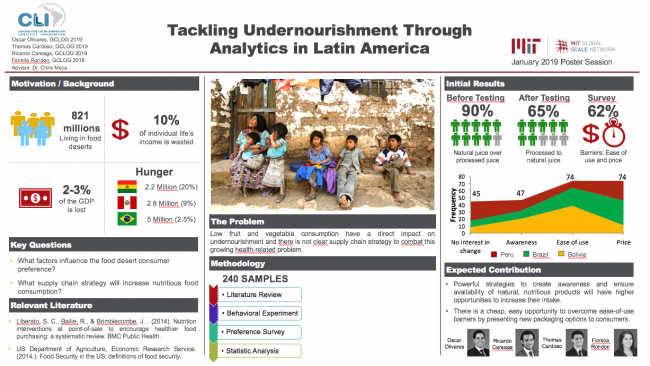 ---
About the MIT Center for Transportation & Logistics
Launched in 1973, MIT CTL is one of the world's leading centers for supply chain education and research. MIT CTL coordinates more than 100 supply chain research efforts across the MIT campus and around the globe. The center also educates students and corporate leaders in the essential principles of supply chain management and helps organizations to increase productivity and improve their environmental performance.
About AWESOME
AWESOME (Achieving Women's Excellence in Supply Chain Operations, Management & Education) is the supply chain's most active and prominent organization focused on advancing women's supply chain leadership. Involving more than 1,200 senior executives in a wide range of supply chain roles, AWESOME provides opportunities for networking, collaboration, and professional development.  In addition to an annual industry-wide Symposium and other events and programs, AWESOME recognizes the accomplishments of outstanding women supply chain leaders by presenting the AWESOME Legendary Leadership (ALL) Award each year and fields several initiatives to support and encourage supply chain as an area of study among young women. To learn more and review criteria for network membership, visit awesomeleaders.org.
About the Research Expo
Research Expo showcases the industry-sponsored research projects of over 180 students from 42 countries in the current MIT Global SCALE Network Masters in Supply Chain Management. Winning projects are awarded prizes. The Research Expo is hosted by the Institute for Supply Management, MIT Center for Transportation & Logistics, MIT Supply Chain Management, and MIT Global SCALE Network. Previous students from the MIT Global SCALE Network Masters programs are now practicing their skills in a wide variety of industries, including consulting, manufacturing, retail, logistics, distribution, and software. Companies worldwide are turning to logistics and supply chain management to give them a strategic advantage and they're hiring SCM graduates to implement that change.
MIT CTL