October 03, 2018
Press Releases
Humanitarian Logistics Award
The American Logistics Aid Network (ALAN) today announced its second annual Humanitarian Logistics Awards at the Council of Supply Chain Management Professionals (CSCMP) EDGE conference. The awards highlight the critical role of logistics in saving lives in times of natural disaster.
The 2017 collaboration between MIT, ALAN and LIFT began in August during Hurricane Harvey. Efforts accelerated at the 2017 CSCMP EDGE conference when the three organizations initiated a daily private sector supply chain coordination call for Hurricane Maria relief. Representatives from FEMA and the government of Puerto Rico also participated.
The call served as a forum for information and resource sharing, problem identification and resolution. The collaboration contributed to efforts ranging from survivors' safe evacuation to key deliveries of food, water, fuel, and medicine in Puerto Rico after Hurricane Maria. Based on requests from call participants during the Maria response, including FEMA, the team initiated that calls recently during 2018 hurricanes Lane and Florence.
"During the unique set of crises during the 2017 hurricane season, we simply took action to support companies who had capacity to respond and needed information to operate more effectively," said Jarrod Goentzel, Director of the MIT Humanitarian Supply Chain Lab. "We have continued efforts to cultivate relationships and improve information flow among public and private entities to accelerate operations following disasters."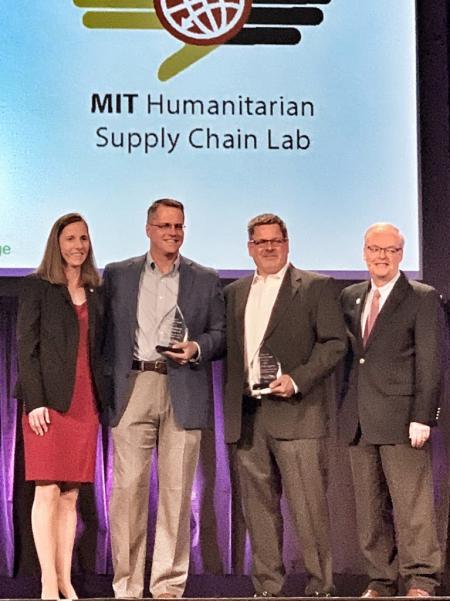 Studying Disaster Response
As the 2017 hurricane season closed, MIT convened several companies and government leaders at a December roundtable to document recent experiences and develop insights. The roundtable report highlights the hurricanes' impacts on critical supply chains, documents solutions employed to address issues, and identifies opportunities to improve data gathering, analysis, and communication, and prioritization.
Some of these opportunities are already being pursued through a FEMA-sponsored study on post-hurricane supply chain adaptability led by the National Academy of Sciences, Engineering, and Medicine, which then contracted the MIT Humanitarian Supply Chain Lab for further research. The study aims to better understand supply chain adaptability following Hurricanes Harvey, Irma, and Maria for impacted areas in Texas, Florida, Puerto Rico, and the US Virgin Islands. MIT will conduct data collection and advanced analysis to understand the nature of supply chain contingencies and to identify crucial links, nodes, or sub-systems that have the potential to expand or constrain operations and/or increase resilience. And the MIT lab members plan to continue support of coordination efforts with ALAN and LIFT when crisis calls.
Award Recognition
ALAN's Humanitarian Logistics Awards recognize organizations and individuals who exemplify the best that the supply chain has to offer by assuring that aid and comfort are rapidly delivered to communities in crisis. "Each of these recipients is living proof that humanitarianism isn't just a one-time event – and that true service extends well beyond a single disaster," said Kathy Fulton, ALAN executive director. "We're grateful to them for the many contributions they have made, and we are proud to recognize them today."
ALAN