February 01, 2008
Press Releases
New Center in Colombia will join MIT's global network of Supply Chain Centers
CAMBRIDGE, Mass., February 1, 2008
–  The Massachusetts Institute of Technology's Center for Transportation and Logistics (MIT CTL) and
LOGyCA
, a Colombia-based logistics company, have signed an agreement worth $19 million creating the Center for Latin-American Logistics Innovation (CLI), the leading research and education center for supply chain and logistics in Latin America.
CLI will join MIT CTL and the Zaragoza Logistics Center in Spain as the third member of MIT's growing international network of centers dedicated to supply chain education and research that now spans the United States, Europe and Latin America.
CLI will help Latin American businesses and individuals compete in local, regional and global markets by delivering leading-edge research, technology and educational programs in logistics, transportation and supply chain management. The Center will also become a major force in academia within Latin America and across the globe.
LOGyCA, which boasts the most robust supply chain technology infrastructure in the region, will house the CLI in its Bogota, Colombia, headquarters. CLI researchers and students will have access to the infrastructure and knowledge base that helped Colombia establish the largest collaborative technology platform in Latin America.
CLI will also connect with its counterparts in the United States through MIT-CTL in Cambridge, MA, and in Europe through the Zaragoza Logistics Center (ZLC) in Spain.   The partnership between MIT CTL and ZLC, launched in 2003, has created a highly regarded educational program and continues to play a key role in the economic growth of the Aragon region and the success of the PLAZA Logistics Park in Zaragoza.
MIT Professor of Engineering Systems and Director of MIT CTL Yossi Sheffi said that launching the CLI extends the reach of both MIT CTL and the ZLC, and enhances their ability to meet the ever-growing demand for truly global supply chain education and research programs.
"Globalization continues to bring new opportunities for growth – and immense challenges.  To stay on the cutting edge and help companies keep pace with these changes, we are expanding our unique network of learning centers where faculty, students, researchers and companies across continents collaborate on supply chain and logistics projects that have global impact," said Sheffi, who is also Director of the MIT Engineering Systems Division.  
Rafael Florez, Director of LOGyCA, said the creation of CLI is an excellent opportunity to strengthen the development of Colombian and Latin American logistics, a well-known strategic component of competitiveness.
"By joining the MIT CTL network, CLI will actively participate in the development of global educational and research programs. It will also give CLI the opportunity to develop solutions that reflect the unique logistics and supply chain challenges in our economies. Latin American business leaders will have access to world-class academic programs that will contribute to improving value chains through the continent. This has always been LOGyCA's mission: leadership in innovation for value networks," said Florez.
The partnership between MIT CTL and LOGyCA is based on a 10-year agreement, which officially begins on March 1, 2008.  The  $19-million deal includes a $4 million gift from LOGyCA to the MIT Center for Transportation & Logistics.
About the MIT Center for Transportation & Logistics
: MIT CTL has been a world leader in supply chain management research and education for more than three decades.  Combining its cutting edge research with industry relationships, the Center's corporate outreach program turns innovative research into market-winning commercial applications.  And in education, MIT is consistently ranked first among business programs in logistics and supply chain management.   For more information, please visit the MIT CTL web site.

About LOGyCA
:  For the last 20 years, LOGyCA has focused on delivering the tools and capabilities that enterprises need to successfully establish collaboration initiatives within their value networks. Through innovative educational, technological and applied research offerings and partnerships, LOGyCA has worked with over 17,000 small, medium and large companies in Colombia and Latin America. For more information, please visit LOGyCA's website.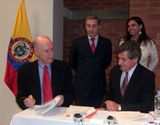 MIT CTL Director Yossi Sheffi (left) and LOGyCA CEO Rafael Florez (right) signed the CLI agreement in Bogota, with Colombian President Álvaro Uribe Vélez and Carolina Rentería, Director of Planeación Nacional, looking on.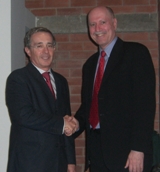 Colombian President Álvaro Uribe Vélez congratulates CTL Director Yossi Sheffi on the launching of the Center for Latin American Logistics Innovation.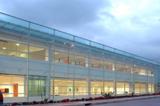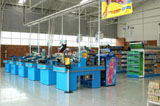 CLI will be headquartered in LOGyCA's 5-acre EPC RFID research campus in Bogotá - the largest of its kind in Latin America.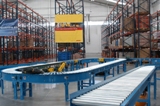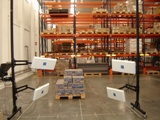 The LOGyCA campus includes warehouses, retail outlets, residential and medical buildings, providing the ideal environment for applied research in technology and logistics best practices.