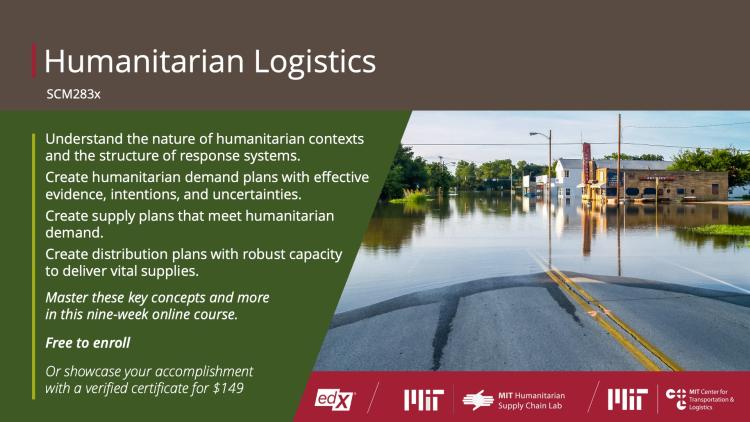 July 26, 2023
Press Releases
Eight-week course runs Jul. 25 to Sep. 25
CAMBRIDGE, Mass. — The MIT Center for Transportation & Logistics is pleased to announce the launch of its latest online, open-enrollment course, Humanitarian Logistics (SCM.283x). The course, open to all, illuminates key concepts and helps develop crucial skills for coordinating humanitarian response efforts to crisis-affected communities.
The course, modeled after the curriculum of its for-credit counterpart at MIT, teaches how to apply supply chain management concepts and methods within dynamic, resource-constrained contexts to operationalize effective emergency response to meet communities' needs. 
In SCM.283x, participants can expect to learn how to:
Create humanitarian demand plans with effective evidence, intentions, and uncertainties
Create supply plans (procurement, inventory, contingencies) that meet humanitarian demand
Create distribution plans with robust capacity to deliver vital supplies
Adapt logistics plans as the humanitarian crisis context changes
Communicate plans for action and cooperation to meet all needs
"We've seen sustained interest over the years from people asking how they can help," said Jarrod Goentzel, Course Lead for Humanitarian Logistics. "This course will show those seeking to make a positive impact how they can most effectively make a difference where the need is greatest."
SCM.283x will be available for free on the edX platform, with the option to earn a verified program certificate for $149. The runs for eight weeks, beginning on Jul. 25, and finishing on Sep. 25, 2023.
SCM.283x is the second new online course produced by MIT CTL since its groundbreaking MITx MicroMasters® Program in Supply Chain Management, which launched in 2015.