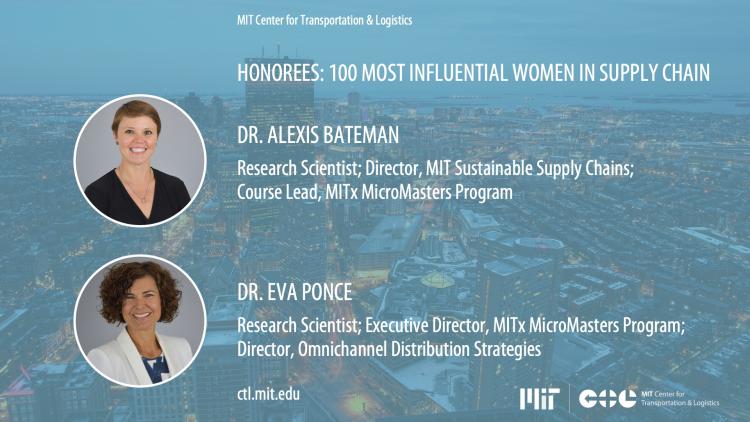 September 01, 2020
Press Releases
Engineering and Supply Chain Management have traditionally been male-dominated fields. This is slowly changing. According to the "2018 Women in Supply Chain Survey" by Gartner, the average percentage of women in Supply Chain roles has increased from 35% to 37% over a three-year period from 2016-2018. During this same time period as well as before and after, the contribution of women at MIT CTL has grown considerably. Along with our Women in Supply Chain Initiative and AWE Scholarship, CTL welcomes the growing diversity in the SCM field of practice as reflected in our research staff.
This year, two of our own are recognized for their contribution to this diversity at the 'Global Women Supply Chain Leaders Awards 2020'. Dr. Alexis Bateman and Dr. Eva Ponce will be recognized alongside 98 other women from around the world as members of the "100 Most Influential Women in Supply Chain." The three-day summit will host a range of speakers to share idea-focused insights on a wide range of subjects and provoking conversations that matter, according to the website. 
Six awards will be conferred in the categories of: global supply chain leadership, innovation in supply chain, excellence in transformation, sustainability leadership, academic excellence, and social media influence. The two-day conference is organized by B2G consulting, a global consulting firm dedicated to driving economic returns for company's supply chain organizations. Learn more about the summit here.