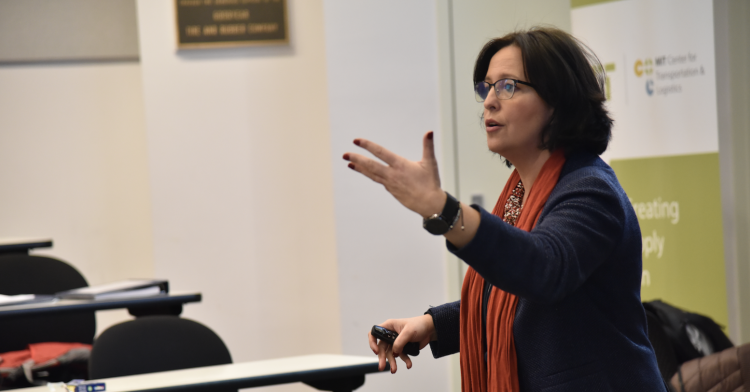 August 15, 2020
Press Releases
The award recognizes Saenz's lifetime contribution to education in the industrial engineering and operations management professions.
Maria Jesus Saenz serves as the Executive Director of the MIT Supply Chain Management Blended Masters Program. Growing through her leadership, this pioneering program allows learners to combine the online MITx MicroMasters program credential with one semester at MIT to earn a Master's in engineering in SCM. Dr. Saenz has guided two graduating classes, overseen more than two dozen capstone projects, and now welcomes the newest cohort of students to the 2021 class. Previously she served for 14 years as a Professor and lastly Executive Director at the MIT Zaragoza Logistics Center, as well as at the University of Zaragoza. She was also the Director of the Spanish Center of Excellence in Logistics. Currently, she serves as the Director of the research area on Digital Supply Chain Transformation at MIT.
Because of her dedication to these roles among others, and in response to an extensive library of publications, Dr. Saenz was honored with the IEOM Distinguished Educator Award by the International Engineering and Operations Management Society this week. "As an educator, Saenz combines expertise working with industry with her passion for excellence in the field of supply chain management (SCM) and logistics". Says Chris Caplice, MIT CTL executive director, "At the Center's SCM program we believe all learning should be applied to real-world problem-solving. Maria enlivens this philosophy with every student she works with. We are fortunate to have her on the team." 
During the unprecedented preparations for this year's campus programs in light of the pandemic, Saenz remains vigilant and optimistic. "Having worked with a variety of students across geographies over the last two decades, I continue to be delighted by their perseverance to accomplish their learning goals even against some big challenges." Claims Saenz, "My students are one of my long-standing inspirations for working in education and academia. I believe this year will be no different."  Saenz also actively recruits real business challenges for her students through an extensive network of relationships she's built between industry, government, and academia. It is this kind of connecting of the dots that motivates the IEOM to recognize Dr. Saenz for teaching, service, and innovation in the field with this award
The Distinguished Educator Award recognizes an individual's contributions for their outstanding lifelong contribution, dedication, support, and services in education in the profession of industrial engineering and operations management. The honoree engages innovation in teaching around industrial engineering and operations management subjects. Maria accepted the award virtually on 14 August during the IEOM awards ceremony as part of the fifth North American Industrial Conference on Industrial Engineering and Operations Management. "It was an exceptional honor to receive this award," says Saenz. "I thank my mentors, students, and collaborators from all along my journey. This would not have been possible without their efforts.
MIT CTL