Conference
Event Date
March 21, 2021 at 7:00AM - March 26, 2021 at 1:00PM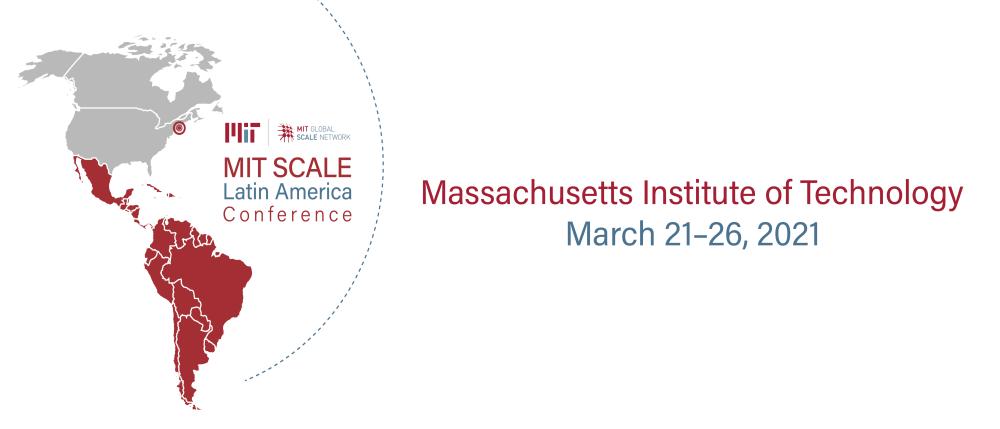 We're excited to announce that the MIT SCALE Latin America Conference will be held virtually in 2021. Now, you can join from anywhere in the world to review over 100 presentations from top academics from across Latin America and the Caribbean and participate in three keynote virtual plenary sessions. 
The MIT Latin American SCALE Network is an alliance of leading-edge research, education, and outreach organizations dedicated to the development and dissemination of innovative supply chain and logistics research in Latin America. The network helps companies, governments, and organizations to compete in an increasingly complex business environment and engage academia, students, and partners to collaborate on projects that have an in-depth economic, societal, and environmental impact. 
As part of the mission of the SCALE Latin America Network, we invite you to participate in the 2020-2021 MIT SCALE Latin America Conference to be hosted remotely on March 21-26, 2021. Organized by the MIT Center for Transportation & Logistics (CTL) in collaboration with the Center for Latin-American Logistics Innovation (CLI). The main goal of the conference is to provide a forum for sharing high-impact educational and research in logistics and supply chain management relevant to Latin America. 
For more detailed information on SCALE LatAm, please visit the official conference webpage.
Registration is now closed
Frequently Asked Questions (FAQ)
Where is the conference being held?
When does the conference officially begin and end?
What is the cost to attend?
What is the payment/cancellation policy?
Are accommodations provided?
What should I wear?
Where is the conference being held?
Using a combination of online platforms and live sessions will be streamed via Zoom
When does the course officially begin and end?
Conference check-in and informal networking will begin between 7:30 and 8:00 a.m. and adjourn at approximately 12:40 p.m. every day. 
What is the cost to attend remotely?
Before 22 Feb 2021

Earlybird Student registration fee: US$50*
Earlybird Regular fee: US$100* 

After 22 Feb 2021 - Standard registration fee for all ticket types: $150*
* To accommodate registration ease and accessibility, ticketing fees will be added.Fee schedule: $50 +4.67, $100 +7.72, $150 +10.76. 
What is the payment/cancellation policy?
Payment must be made on-line at Eventbrite using an American Express, Discover, MasterCard, or Visa credit card. 
All cancellations must be made in writing to scalelatam2020@mit.edu.
A full refund will be granted up to 30 days prior to the start of the conference.
Cancellations made 15-30 days prior to the program will be subject to a 50% cancellation fee.
NO REFUNDS will be granted for cancellations within 14 days of the March 21 conference start date.
Are accommodations provided?
No, this event will be remote! There is no need for accommodations or trips.
What should I wear?
Appropriate attire is business casual; no ties or suit coats are necessary.
Do you need further information?
Please send your questions to scalelatam2020@mit.edu
International restrictions
United States export control regulations prohibit U.S. entities, such as MIT, from offering services to users in specific sanctioned regions. In order to comply with these regulations, MIT CTL does not allow users in certain countries or regions to access our courses, including certain degree program content. These countries or regions may include Iran, Sudan, Crimea, Cuba, Syria, North Korea, and are subject to change depending on U.S. export control regulations. More information about the sanctions programs administered by the Office of Foreign Assets Control ("OFAC") of the US Department of the Treasury is available at https://www.treasury.gov/resource-center/sanctions/pages/default.aspx.  
Additionally, VOIP/Zoom may be unavailable in certain regions, including the UAE. Depending on your exact location, you may encounter a payment purchase block when attempting to register for a course.
We value our global community of students and regret the need to impose any restriction on access to our courses. You will be notified by MIT CTL staff should your registration be restricted.