Distinguished Speaker Series
Event Date
February 26, 2020 at 4:30PM - February 26, 2020 at 6:00PM
Location
Wong Auditorium: MIT Building E51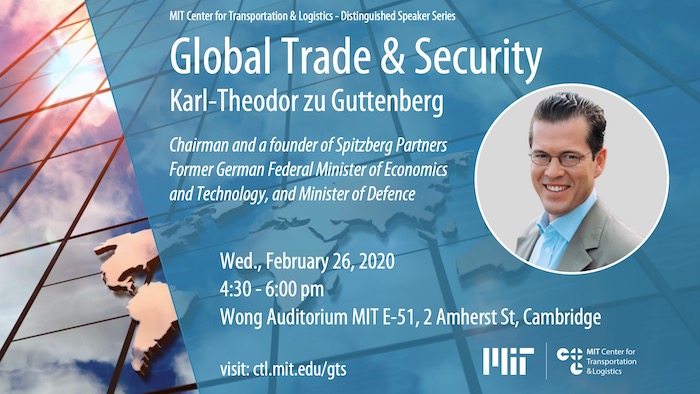 Join us in welcoming Karl-Theodor zu Guttenberg, Chairman of Spitzberg Partners and a former German Federal Minister of Defense. This will be a fireside chat, interview hosted by Professor Yossi Sheffi. Topics will cover everything from general business to politics, global trade, security, and economics.
Karl-Theodor zu Guttenberg served as the German federal minister of defense from 2009 to 2011 and as federal minister of economics and technology from February 2009 to October 2009. As minister of defense, he led the most significant structural reform of the German armed forces since the Bundeswehr's founding in 1955. In particular, he spearheaded the effort of transforming the Bundeswehr from a conscription-based army to an all-professional military.

As a distinguished statesman at the Center for Strategic and International Studies (CSIS) in Washington, D.C., Baron zu Guttenberg leads a new high-level transatlantic dialogue initiative focused on global trends and current political, economic, financial, and technology issues. Since December 2011, he has served as a senior adviser to the European Commission's "No Disconnect Strategy," providing strategic counsel on how to give ongoing support to Internet users, bloggers and cyber-activists living under authoritarian regimes. 
MIT CTL will be hosting a Distinguished Speaker Series throughout the winter. All MIT students, staff, affiliates, and alumni are invited to attend. 
Please register for free if you plan to attend. At this time we aren't allowing press and media to attend. Questions? Email us at ctl_comm@mit.edu.