Webinar
Event Date
December 12, 2023 at 8:00AM - December 12, 2023 at 9:30AM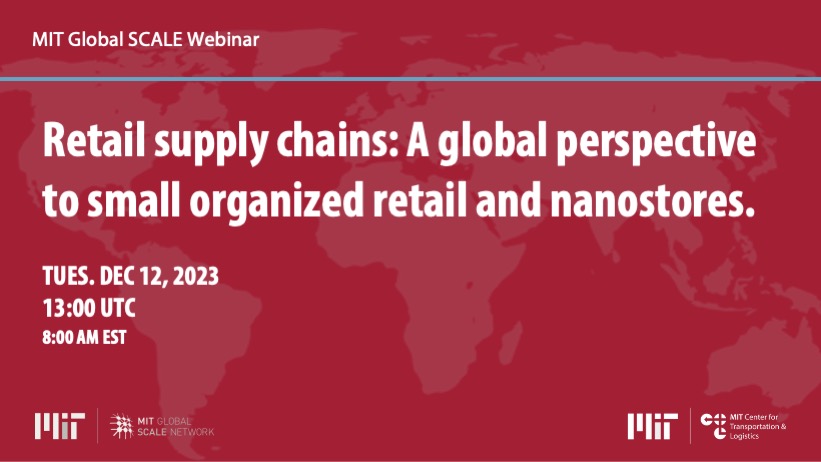 Join researchers from across the MIT Global SCALE Network along with industry guests for an interactive discussion. 
Abstract
Retail is one of the most dynamic industries worldwide, given its importance in bringing goods to millions of households in growing urban metropolitan areas. In developing countries, its importance is even greater considering the convenience, affordable prices, and socioeconomic impact in the community they provide through small formats such as small, family-owned retailers and nanostores (Fransoo, Blanco, and Mejia-Argueta, 2017). Despite the high market share these nanostores capture in those economies, other retail formats such as convenience stores and hard discounters grow to offer several products to multiple households depending on their income level, age, preferences, etc. In this webinar, we will discuss strategy and business models in the retail industry, the impacts of e-commerce and technology, the logistics challenges to serve this channel, the capabilities to anticipate or respond to potential disruptions, and the industry's future. Researchers from China, Latin America, and the United States, as well as two industry subject matter experts, will share their opinions and answer the moderators' and the attendees' questions.
Source: Fransoo, J. C., Blanco, E. E., & Mejia Argueta, C. (Eds.) (2017). Reaching 50 million nanostores: retail distribution in emerging megacities. CreateSpace Independent Publishing Platform.
Speakers
Dr. Chris Mejia-Argueta, Director of the Food and Retail Operations Lab at MIT CTL
Conan Wu,  Head of Strategic Cooperation & Partnership Development at Ningbo China Institute for Supply Chain Innovation
Zhao Lihan, VP of Supply Chain and Commercial Development at Shangai Laiyifen
Cesar Becerra, Director of the Center for Latin American Logistics Innovation
Cesar Rios, Supply Chain & Logistics Director at Jeronimo Martins
Register here to attend this webinar.