March 17, 2020 - 9:00AM
March 17, 2020 - 11:30AM
MIT Center for Transportation & Logistics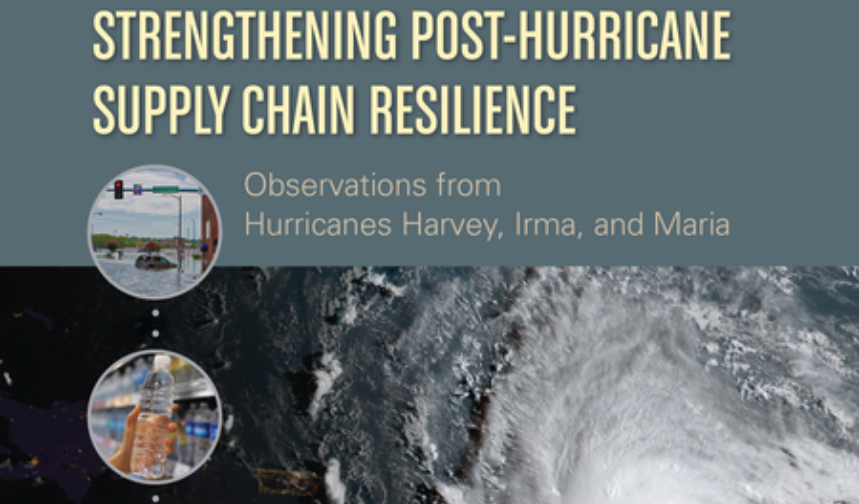 Notice: this event is open to the MIT CTL community and invited guests. Upon registration we will reach out to confirm attendance.
In response to a request from the Federal Emergency Management Agency (FEMA), the National Academies of Sciences, Engineering, and Medicine convened an expert committee to conduct a study to document and understand the strengths and vulnerabilities of the supply chain networks affected by Hurricanes Harvey, Irma, and Maria in 2017. The study report recommends strategies, applicable to both the private and public sectors, for strengthening the resilience of these networks.
This unique National Academies activity was informed by two additional activities. First, The CNA Institute for Public Research developed case studies based on background research, data collection, and interviews with key actors in the 2017 hurricanes. Second, the MIT Center for Transportation and Logistics proposed analytical models to identify nodes and links in the supply chain that amplify or dampen cascading effects in order to identify options that strengthen the private sector capacity to operate following disasters.
MIT CAVE Lab visualization software screen view from simulation.
Agenda
9:00: Welcome and Introductions – Dr. Jarrod Goentzel and Steven Stichter
9:10: Strengthening Post-Hurricane Supply Chain Resilience: briefing of the National Academies report - Dr. Özlem Ergun and Dr. Craig E. Philip
Two National Academies committee members will present a summary of the consensus study report based on lessons learned from the 2017 hurricanes Harvey, Irma, and Maria. They will share recommendations to make supply chains for critical goods and services – such as food and water, gasoline, and pharmaceuticals and medical supplies – more resilient in the face of hurricanes and other disasters.
10:15 Modeling Supply Chain Resilience: an MIT CAVE Lab experience - Dr. Jarrod Goentzel and Tim Russell
Analytical models support efforts to strengthen supply chain resilience by building intuition, diagnosing potential issues, and evaluating options to mitigate and adapt. In support of the NASEM study, MIT proposed several models and developed prototypes for the CAVE, a new lab equipped with state-of-the-art visualization technology to address complex supply chain problems. This session previews prototypes that visualize post-hurricane diesel fuel supply in Florida and commodity flows in southeastern ports.
11:30 Adjournment followed by the MIT FreightLab Summit in the afternoon
Speakers
Dr. Özlem Ergun, Professor, Mechanical and Industrial Engineering, Northeastern University
Jarrod Goentzel, Director, MIT Humanitarian Supply Chain Lab in the Center for Transportation and Logistics Dr. Craig E. Philip, Research Professor of Civil and Environmental Engineering, Vanderbilt University
Tim Russell, Research Engineer, MIT Humanitarian Supply Chain Lab, and Project Manager, MIT CAVE Lab
Steven Stichter, Director, Resilient America program, National Academies