Conference
May 21, 2021 at 8:00AM
- May 21, 2021 at 6:00PM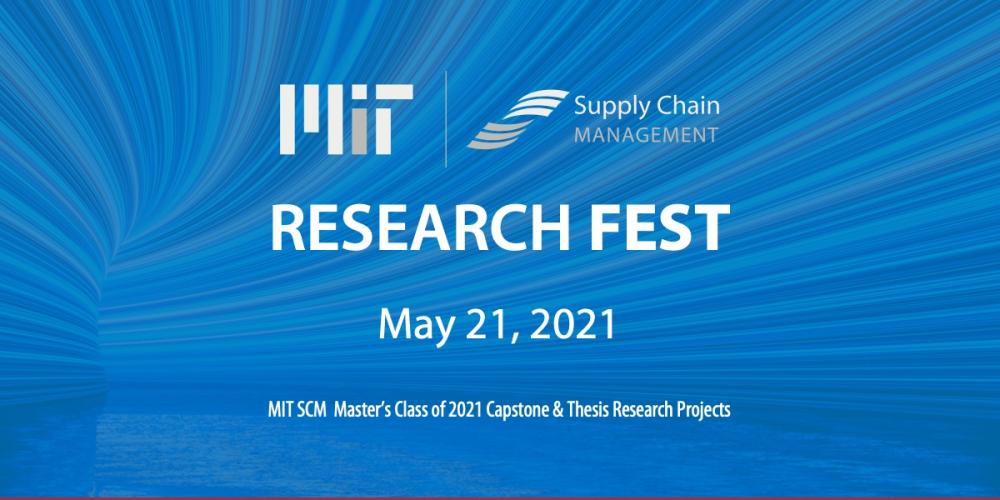 SCM Research Fest provides a unique overview of supply chain research projects conducted by MIT SCM graduate students working in partnership with project-sponsor companies. The 2021 Research Fest program will feature new asynchronous online content available to a worldwide audience, as well as the student presentations (synchronous, online) open to CTL Supply Chain Exchange partners, project sponsors, and affiliate audiences.
Research Fest showcases students' future-forward research on a range of supply chain and operations areas including digital transformation, optimization, analytics, resilience, and more. 
The public Research Fest web site, showcasing student project materials including posters, executive summaries, and short pre-recorded video presentations, will be available from May 21-28. Check back for a link to the site when it launches on May 21.

CTL partners, project sponsors, alumni, researchers and staff are invited to (virtually) attend synchronous student presentations taking place throughout the day on May 21. Watch your email for a special link to register for the May 21 presentations! You will also be able to explore and interact with the content on public Research Fest web site that will launch on May 21.
 
Questions? Email us at scm@mit.edu