May 05, 2015 - 8:00AM
May 05, 2015 - 9:00AM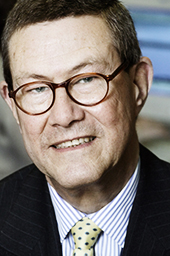 Creating Global Opportunities. In the early 1970's when Maersk Line was developing its container-based transport system, world trade was changing irrevocably. The following years saw an unprecedented quantitative increase in world trade, driven largely by production in Asia and supported by the incredible success of the container. The presentation will highlight some of the key shifts in the company's development from a minor player in liner shipping to the world's largest container operator. The two "spin-off businesses", Maersk Logistics development  into Damco and the creation of APM Terminals will also be touched on. The story is illustrated with reference to the changes in world trade, both backward and forward looking.
Speaker Bio:
Chris Jephson was until recently Director of Learning at Maersk Line. Following graduation in the UK in 1969, he worked in Taiwan, then in Copenhagen and the UK until 1990 when he became part of the global management team of Maersk Logistics before moving back to Maersk Line in Copenhagen in 2005.

He has been a long term member of the US based Council of Supply Chain Professionals (CSCMP) as well as the Cranfield Centre for Logistics and Supply Chain Management Advisory Board (CLSCM).