April 08, 2020 at 12:00PM
- May 13, 2020 at 1:00PM
Please note: this series is open to Supply Chain Exchange members exclusively.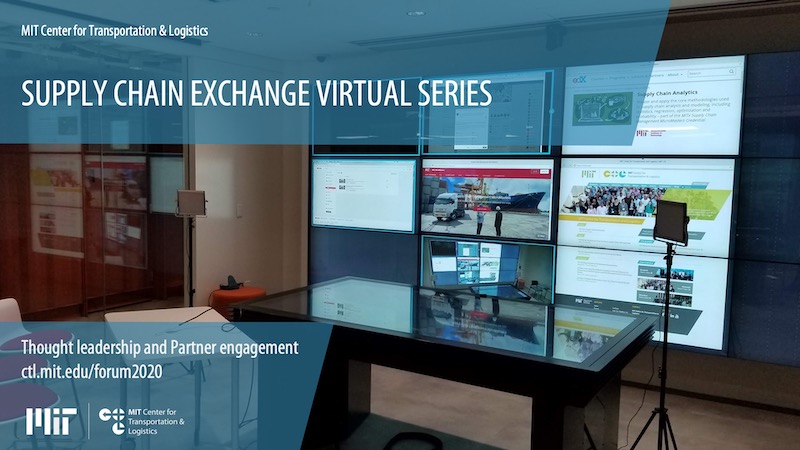 MIT CTL offers a virtual series that to include briefings from CTL and SCALE Network researchers and virtual exchange sessions. We will host a briefing and discussion each week during the time that we are unable to convene in person. Each talk will start with a presentation from the researcher and then will be followed by a Q&A session. These are intended to provide our Partners continued engagement with other Supply Chain Exchange members and offer the opportunity to continue to learn about our work.
Wednesday April 8 at 12:00 p.m. EDT / 16:00 UTC - Truck Driver Initiative
This talk will feature David Correll, a Research Scientist at MIT CTL and an expert in freight transportation. Dr. Correll will discuss the Truck Driver Initiative, which aims to use new data to better understand how driver behavior influences the trucking industry as a whole.
Trucking is a massive part of the US economy with annual revenues exceeding $290B. While the industry has a huge scale, the individual driver is sometimes forgotten. The behavior and experiences of a driver essentially dictate the overall efficiency and effectiveness of the trucking industry. Until recently, the details of driver behavior and activities were not well documented or easily accessible for analysis. With the advent of ELDs and other technology, however, we are presented with an opportunity to fully examine driver behavior and activity across multiple carriers to uncover new insights and opportunities for improving the individual driver experience, as well as the performance of the entire industry. This initiative looks to uncover new insights and identify specific opportunities to improve the effectiveness, efficiency, and quality of life of drivers through an analysis of individual driver actions and behavior using ELD and other related data.
David Correll is a Research Scientist at MIT CTL, where he serves as a Course Lead in the MITx MicroMasters® Program in Supply Chain Management and contributes to transportation research at the MIT FreightLab and MIT Sustainable Supply Chains. Dr. Correll earned his PhD in Supply Chain Management from Iowa State University, where he also earned an MS degree in Biorenewable Resources & Technologies and Sustainable Agriculture.